Delta Programme Commissioner visits Wide Green Dyke project
On Tuesday, 24 April, Delta Programme Commissioner Wim Kuijken visited the Wide Green Dyke project in the province of Groningen, at the invitation of water board council chair Geert-Jan ten Brink. Well over five years ago, Wim Kuijken toured the area and met with stakeholders to discuss the option of improving the Dollard dyke with respect for nature and factoring in a sustainable economy. Today, he was brought up to date on the works in progress.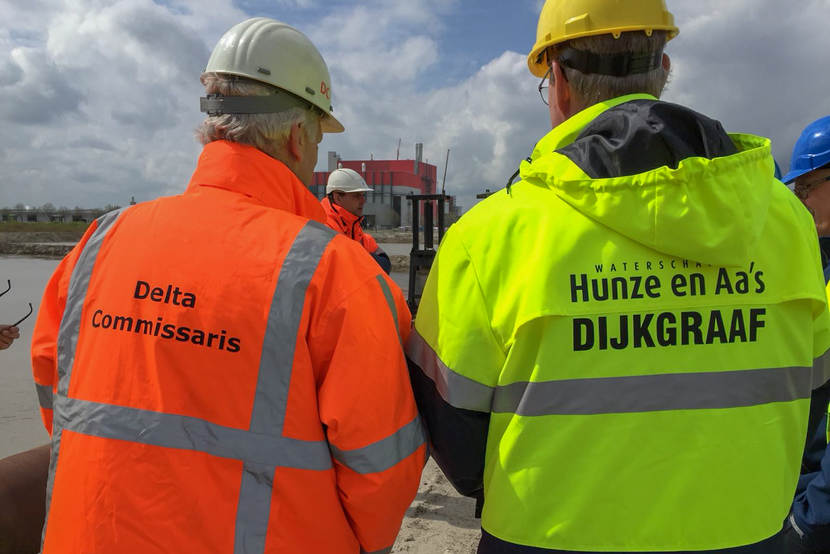 'I am impressed by the innovative solution that has been chosen, involving mud from the Eems Dollard nature reserve being converted to clay. It is local, circular, and sustainable. A great many parties have supported this solution with positive energy and an open mind. It looks as if it is going to work, although we still need some time to see whether all the goals will be attained. The first results that I saw today inspire great confidence. This is going to be an impressive innovation holding potential for our country and other deltas. A textbook example of linking other goals to securing the protection of our country,' as Wim Kuijken stated this afternoon following the visit.
National and international example
The Wide Green Dyke project comprises three stages: the construction of an avocet pool in the mud flat, the maturation of mud into clay in a special mud maturation plant, and the ultimate construction of the Wide Green Dyke. This Flood Protection Programme demonstration project is being carried out under the Wadden Sea Dykes general exploration, which serves as a national and international example and which is co-funded from the Wadden Fund. The project employs a new form of "Building with Nature".
Only feasible through collaboration
The construction of the Wide Green Dyke is an essential dyke improvement for the future. It uses the forelying mud flats, the Breebaart polder, and mud from the Eems Dollard nature reserve. Close collaboration is essential to achieve this. A project that is carried out in a Natura 2000 area calls for proper coordination with many stakeholders, including nature organisations, mud flat owners, the province of Groningen, Rijkswaterstaat [the executive branch of the Ministry of Infrastructure and Water Management], and the Ecoshape foundation that is studying the maturation of the clay.
More information is available at the website of the Hunze en Aa's district water board (in Dutch).