Delta Programme Commissioner Wim Kuijken opens climate-proof city testing ground
On 16 May 2018, Delta Programme Commissioner Wim Kuijken and Water Board Council Chair Michiel van Haersma Buma flooded the Buffer Block to officially open the new WaterStreet testing ground on the premises of Delft University of Technology.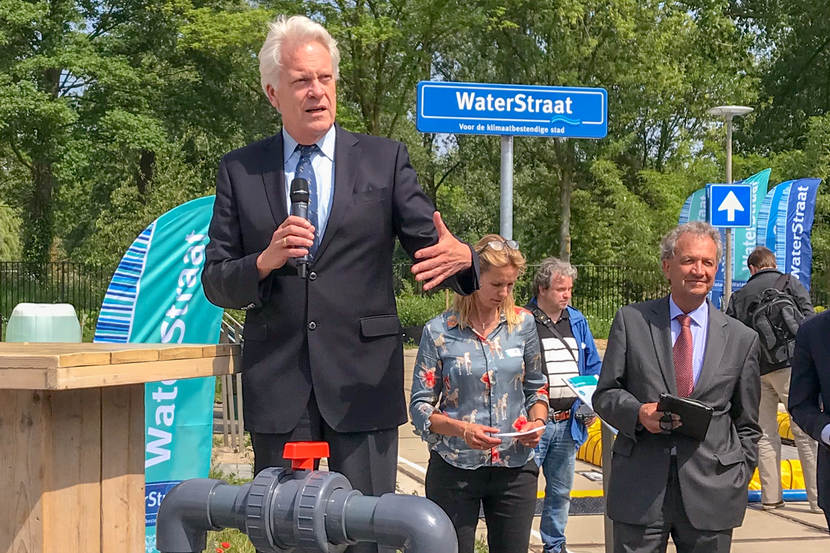 The testing ground is the result of a close collaboration between the business community, research institutes, and the government. It comprises 12 innovative solutions to waterlogging and prolonged drought. Interventions in public spaces are imperative in order to prepare our country for a warmer, wetter, and drier future. This testing ground offers the opportunity to develop and test innovations in a safe environment, before implementing them in actual practice.
Wim Kuijken called the testing ground a wonderful opportunity to take the next steps towards rendering our country climate-proof and water-resilient. 'Use this testing ground to study and innovate together, and to bring about a transition. A transition to a new way of spatial planning. A way in which climate-proof action becomes standard practice.'
Following the opening ceremony, the guests were taken on a tour of the innovations. Entrepreneurs and scientists involved demonstrated innovations such as the Rainroad, that provides both additional rainwater storage capacity during wet periods and cooling in periods of drought; a Buffer Block that prevents peak downpour discharges from immediately ending up in the sewer system; Flowsand that increases the sponge action of the city; and a climate-proof bus shelter.
More info: www.vpdelta.nl/nl/proeftuinen/urban-delta/waterstraat