Wim Kuijken in debate during Four Freedoms Awards 2018 event
'I would like to congratulate Christiana Figueres Olsen on receiving the International Four Freedoms Award which she accepted today on behalf of so many people involved in the Paris Climate Agreement.' Delta Programme Commissioner Wim Kuijken was speaking on 16 May during a side event on the occasion of the presentation of the Roosevelt Four Freedoms Awards.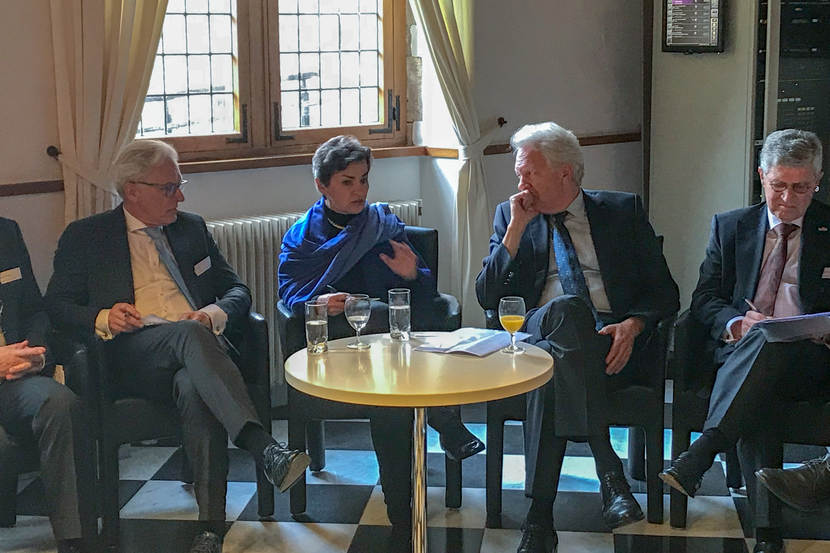 Every two years, the Dutch city of Middelburg hosts the presentation of the Four Freedoms Awards (FFA) to individuals whose achievements have demonstrated a commitment to one of the four Freedoms of the American President Franklin D. Roosevelt: freedom of speech, freedom of worship, freedom from want, and freedom from fear. In even-numbered years, the award ceremony takes place in Middelburg, in odd-numbered years in New York City. In the United States, only American citizens qualify for the award of a Four Freedoms medal.
Paris Climate Agreement
Former Middelburg laureates include Nelson Mandela (2002) and Angela Merkel (2016). This year, five people will receive an award, among whom is Christiana Figueres Olsen from Costa Rica. She will receive the International Award as a representative of all those whose hard work and dedication for many years have contributed to the realisation of the 2015 Paris Climate Agreement.
Mitigation and adaptation
During a special event following the presentation ceremony, Ms Olsen discussed the issue of "Implementation of and dilemmas in climate policy" with a select group of people. Delta Programme Commissioner Wim Kuijken was invited to join the debate. In his pitch, he outlined the importance of both mitigation and adaptation. 'Two sides of the same climate coin. As far as is reasonably possible we must expend our best efforts to prevent the Earth from warming faster and more than is currently threatening to happen. Compliance with the Paris agreement, for which Ms Figueres received her award today, is crucial to this end. However, the climate coin also has an adaptation side. Even if we all outstrip our Paris commitments, substantial spatial measures will be required at many locations across the globe to keep the population safe. Particularly in delta areas such as the one in whose very heart this Middelburg venue is located.'
Bridging differences
The Delta Programme Commissioner gave his discussion partners a brief insider's view of the Dutch Delta Programme in actual practice and concluded by pointing out the importance of the international climate community that has developed, alongside the robust delta community. 'If we cannot manage to attain the goals of the Climate Agreement, we will be wasting our time. Then we will just keep mopping up with the tap wide open, as we say in the Netherlands.'
More information is available on the Four Freedoms Awards website.