National Coast Day in Petten
On 28 June, some 140 stakeholders attended the National Coast Day. This year's conference was held in Petten, overlooking the new Hondsbossche Dunes, the sandy solution to improve the Hondsbossche and Pettemer Sea Walls. The Coast Day focused on new developments in the Delta Programme, such as an accelerated rise in sea level, dynamic coastal management, and the Coastal Genesis research programme.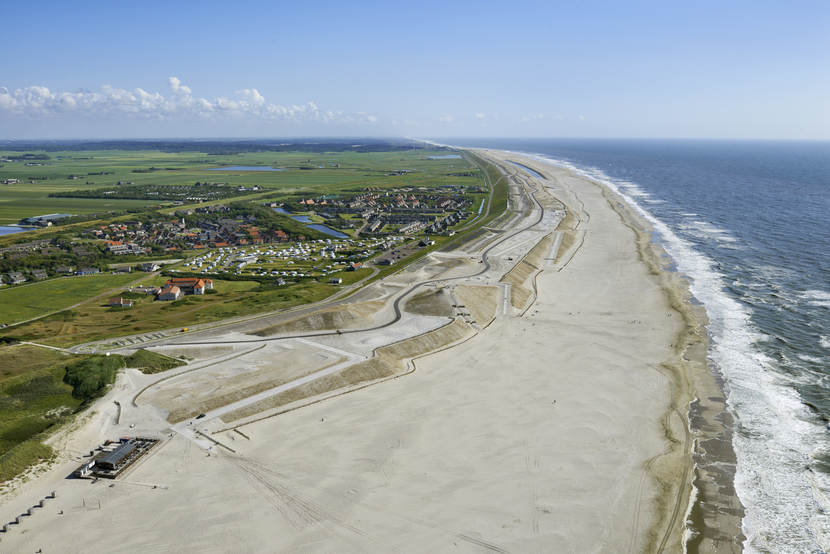 The National Coast Day was opened by Cees Loggen, Chairman of the National Consultation Committee on the Coast and member of the Noord-Holland Provincial Executive responsible for water issues. He proudly observed that large volumes of sand have flood-proofed the weak link at this location, while creating a range of opportunities for the leisure and tourism sector.
Delta Programme Commissioner Wim Kuijken addressed some current developments that may have an impact on the Delta Programme Preferential Strategy for the Coast, such as the potential acceleration in sea level rise. 'Obviously, it would be great if coastal sand replenishments could keep up with the rising sea level, based on the principle of "flexible where possible",' the Delta Programme Commissioner commented. He indicated that there are still many uncertainties. 'Within the Delta Programme, we aim to stay ahead of disasters; this makes optimum preparation particularly important for us. Keeping a finger on the pulse with respect to the rise in sea level, and continuing to build expertise on the coastal foundation and on the behaviour of sand along the coast.' Furthermore, Wim Kuijken indicated that the preferential strategies are reviewed every six years in order to verify that we are still on the right track, or whether they need adjusting. In his opinion, an adaptive strategy is best. He also emphasised the importance of collaboration along the coast and within the Delta Programme: "Multi-governance, without taking over one another's responsibilities, typifies the collaboration within the Delta Programme. We have devised and built up this concept collectively. I call on everyone involved to definitely continue on this course.' In conclusion, he stated that – in addition to adaptation – mitigation is equally important. Everyone must do his or her part to ensure that global warming is kept below 2 degrees. Otherwise, the coastal tasking would increase enormously.
The Delta Programme Commissioner's address was followed by presentations on the accelerated rise in sea level (Hylke de Vries / Royal Netherlands Meteorological Institute KNMI), dynamic coastal management (Joost Veer / Rijnland district water control board), Coastal Genesis 2.0 (Carola van Gelder / Rijkswaterstaat), and Delfland Climate Lab (Stefan Aarninkhof / Delft University of Technology).
The afternoon was focused on the Kust op Kracht [Reinforcing our Coast] project, with which the province of Noord-Holland aims to create an appealing and economically strong coast between Camperduin and Callantsoog, along with municipalities, nature organisations, and entrepreneurs.
Chris Lansink, programme manager for the Coast, looks back on a successful day. 'I am pleased with the great turnout at the National Coast Day. The message that the sea level could be rising has certainly contributed to garnering this much interest. It is important to keep a finger on the pulse, with respect to both coastal protection and the other ambitions along the coast.'