Adaptation Futures 2016: Delta Programme Commissioner emphasises importance of adaptation
'The success of an adaptation strategy is based on the awareness of urgency, on connecting local communities to a nationally, and sometimes internationally, directed strategy.' With these words, the Delta Programme Commissioner kicked off the discussion by the international panel during the "Adaptation Futures 2016" conference in Rotterdam, the fourth in the series. The second day of the conference focused on the importance of funding adaptive measures and encouraging private sector developments.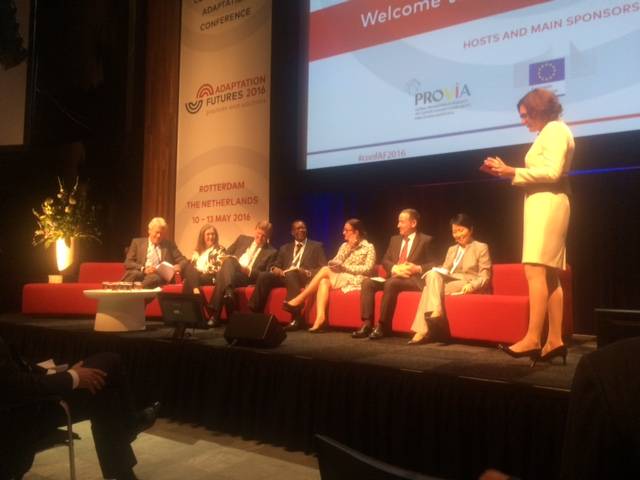 Adaptation Futures 2016
Prior to the panel discussion, Her Majesty Queen Máxima opened the conference with a keynote address, advocating a collective contribution to the achievement of the sustainable development goals (SDGs). Furthermore, Her Majesty emphasised the importance of inclusive funding, which will put local residents in a better position to cope with the consequences of climate change. Local small and medium-sized enterprises must be encouraged to adopt an active role in this respect. 'Let us break the barriers for people excluded from access to financial means and support them in realising these urgently needed adaptation measures.'
Delta Programme Commissioner Wim Kuijken sat on the international panel of experts, who were given the opportunity to reflect on this and share their own views. The Delta Programme Commissioner highlighted the success factors in the Dutch approach, involving joint efforts by the government, private sector, and knowledge institutes. He also explained the essence of the Dutch approach: the Delta Programme, Delta Act, Delta Fund, Delta Programme Commissioner, and Delta Decisions. In the Netherlands, joining in is in everyone´s best interest, both public and private parties. It is important to realise that advance investment in a resilient society will prevent social disruption in the event of a disaster. The cost of cleaning up the damage is seven times as high, according to UN sources.
This year, this biennial conference has been organised by the European Commission and the Dutch government. Adaptation Futures is a global climate change research programme focused on vulnerabilities, impacts and adaptation (PROVIA). This year´s theme is "Practices and Solutions".