Delta Programme Commissioner and Special Envoy for International Water Affairs visit the climate-adaptive city of Zwolle
On 14 October, Delta Programme Commissioner Wim Kuijken and Special Envoy for International Water Affairs Henk Ovink paid a working visit to the city of Zwolle. The working visit was focused on spatial adaptation and the Climate Adaptation City Deal. A key question in this respect is: how do we prepare our cities, such as Zwolle, for increasingly more and heavier downpours, and for increasingly hotter summers?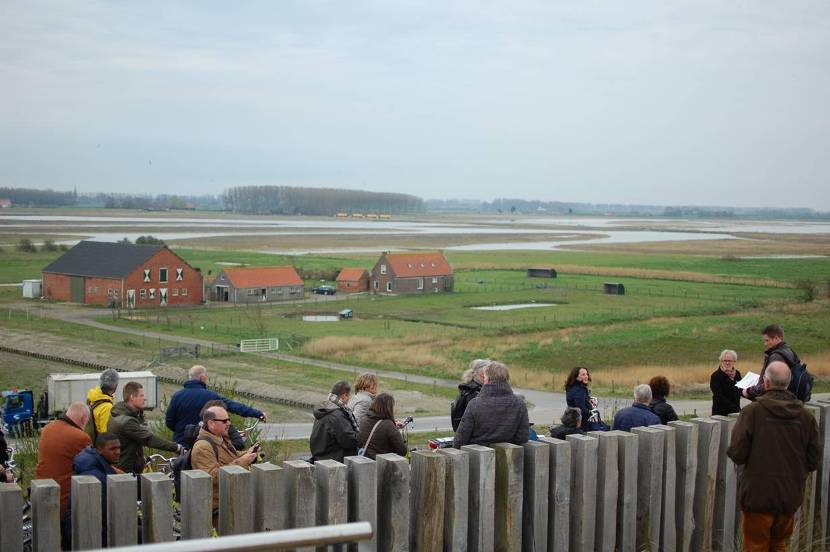 The day's schedule featured the presentation of good practices, discussions with residents and stakeholders, and learning lessons from actual practice. The visit constituted a prelude to a Delta Plan on Spatial Adaptation to be drafted next year as a component of the Delta Programme 2018. Prior to arriving in Zwolle, the Special Envoy for International Water Affairs and the Director of the Delta Programme Commissioner's staff visited the Afsluitdijk [IJsselmeer Closure Dam] and the Frisian IJsselmeer shore. Attention was focused on the closable dam section for the passage of migrating fish, and the soft Sand Engine off the IJsselmeer coast.
The working visit to Zwolle commenced on board the Blauwvinger in the Zwolle municipal canal with a welcome by Bert Boerman, member of the Overijssel Provincial Executive. During their tour, the Delta Programme Commissioner and the Special Envoy were brought up to date about the interconnectivity between the regional and main water systems in Zwolle, and were made acquainted with the location of Zwolle as an island amidst a delta area comprising several rivers. The hosts explained how Zwolle is addressing the search for linkage opportunities and adding spatial quality to dyke improvement taskings. In some cases, this is achieved simply by examining whether a primary flood defence system could accommodate trees and a footpath.
Alderman Ed Anker explained the Watercasco project. In the context of this project, spatial adaptation taskings are tackled through integrated area development, with support provided by an urban development agency. The project explores how the Zwolle urban area can be relieved in the event of heavy downpours and torrential rain, for example, by redirecting the water around the city. The project also explores options for linking up with energy issues, and examines the (contemporary)