The Netherlands and Argentina to strengthen ties with respect to integrated water management
During the Economic Business Forum in Amsterdam, President Mauricio Macri of Argentina requested the Netherlands to enter into close collaboration with respect to water quality, and to tackle the increasing impact of climate change. President Macri indicated that Argentina has scheduled substantial investment into integrated water management and water infrastructure in the years ahead. Delta Programme Commissioner Wim Kuijken presented the successful building blocks of the Dutch Delta Programme during the forum, which was also attended by representatives from the Argentine and Dutch business communities. During the state visit, various collaborative agreements will be signed in the areas of water technology and water governance.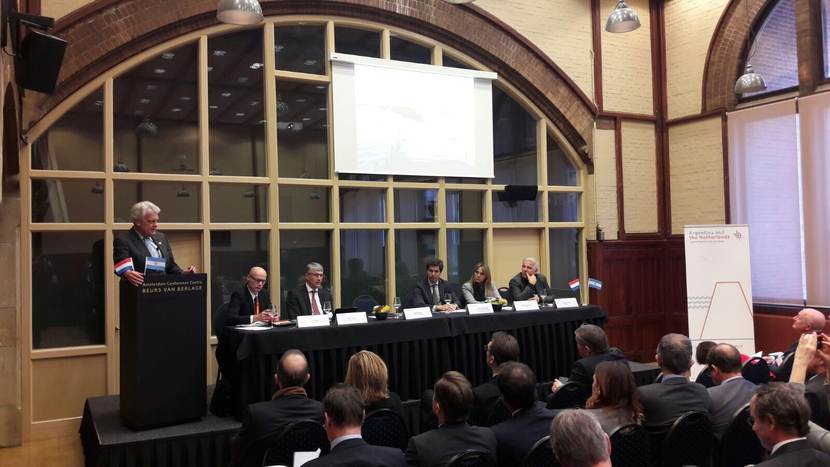 The state visit is expected to give impetus to the mutual wish to strengthen the bilateral relations that were established in 2015, with a focus on economic and political collaboration. Argentina is contending with regular flooding in the provinces of Buenos Aires, Santa Fe, Entre Rios, and Cordoba, as a result of the effects of El Niño. Another priority is water quality, due to the discharge of untreated urban and industrial waste water. During the state visit, more than 400 delegates from Argentina and the Netherlands are gathering to foster economic collaboration in the fields of water, agriculture, and the financial sector.
In his address, Delta Programme Commissioner Wim Kuijken called on those present to encourage partnerships and innovation, thus creating room for intensive collaboration between the business community and the government, based on a long-term approach. Vice Minister Bereciartua, responsible for water affairs within the Ministry of the Interior, Public Works, and Housing, emphasised the necessity of constructing water purification plants in the years ahead in order to curb the discharge of untreated waste water. This affords the Netherlands an opportunity for collaboration in the export of technology and expertise. The collaboration will also focus on water governance; the Dutch Water Authorities have signed a Letter of Intent to this end.