Delta Programme Commissioner opens Haringvliet freshwater intake station
Today, Delta Programme Commissioner Wim Kuijken opened the new Haringvliet intake station, operated by Evides Waterbedrijf. Lake Haringvliet thus continues as a drinking water supply source for the islands of Goeree-Overflakkee and Schouwen-Duiveland. The new intake station represents a key compensating measure that enables the partial opening of the Haringvliet locks in 2018. These locks will be set ajar under an international agreement aimed at fostering fish migration in the river Rhine.
Delta Programme Commissioner Wim Kuijken pointed out the importance of a robust freshwater supply in the Delta Programme. This is vitally important, especially since our country is currently experiencing another period of drought. He thanked and congratulated all those involved on the completion of the project. 'Rijkswaterstaat, the Hollandse Delta district water board, and Evides have collectively examined the ambition of partially opening the locks, thus securing the freshwater supply for the vicinity of the lake. They have succeeded in their efforts. By opening the Haringvliet intake station, we have now also secured the drinking water supply, along with the freshwater supply.' In his address, the Delta Programme Commissioner – who in 2010 provided advice on the project that had become deadlocked at the time – pointed out the need to involve all the stakeholders in the area in the tasking at an early stage, and to provide clear direction in order to achieve the goal envisaged. In recent years, this approach has borne fruit with respect to the implementation of this compensating measure. This approach is also an important factor for success in the national Delta Programme.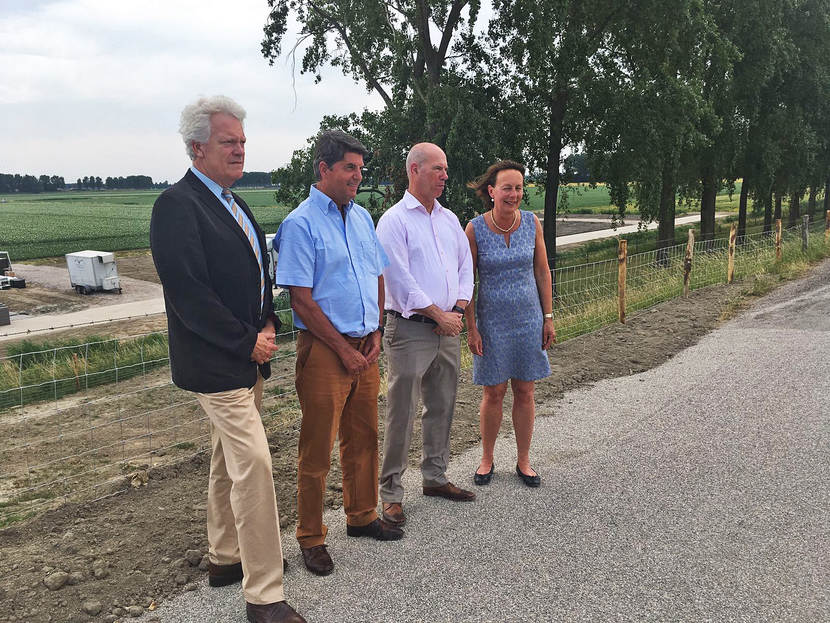 The intake station and a 14 km water transport pipe have been completed a year ahead of the schedule set down in 2013. Annette Ottolini, general director of Evides Waterbedrijf: 'Lake Haringvliet remains a drinking water supply source thanks to close collaboration with Rijkswaterstaat and the Hollandse Delta district water board, but the stakeholders in the immediate vicinity have certainly done their part.' From the Haringvliet intake station, the water flows to the Ouddorp purification plant. Here, it is pre-purified, whereupon it is infiltrated in the dunes near Ouddorp and Haamstede. Eventually, this water is pumped up again and purified to clean and reliable drinking water. Marco Zeeman of Rijkswaterstaat commended Evides' efforts to garner support for the measure: 'We have a sound basis with all the stakeholders. Initially, we will be opening the locks at an easy pace. During the opening process, we can thus learn about its impact, together with partners such as LTO, the Dutch Federation of Agriculture and Horticulture. Evides has taken great pains to establish a basis of trust among the residents in the area. Without big words, but by understanding and meeting commitments.'