Rivierenland gives impetus to implementation of spatial adaptation
By 2050, all of the Netherlands must have been "climate-proofed". The policy plans to achieve this must be ready by 2020. Some government authorities are taking the lead and already implementing measures. In the Rijk van Nijmegen and Land van Maas en Waal areas, seven municipalities, the province of Gelderland, and the Rivierenland district water board have joined forces to prepare for severe downpours, drought, and heat. Sufficient reason for inviting Delta Programme Commissioner Wim Kuijken to inform him about the collaboration in this area and the results already accomplished.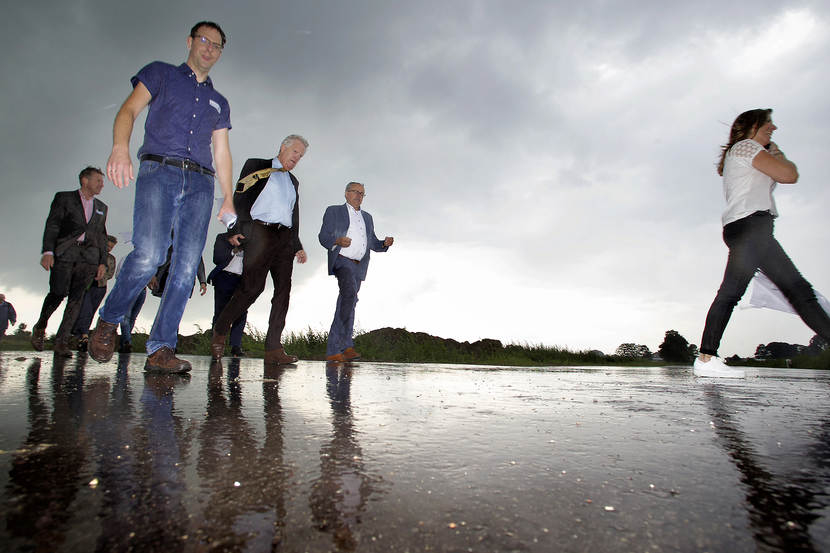 On 11 July, at the invitation of the district water board and the province, the Delta Programme Commissioner visited Beneden-Leeuwen, a village in the municipality of West Maas en Waal, where he was informed about the regional collaboration. Together with the administrators, officials, and NGOs involved, he subsequently took a look at several measures that had been carried out, e.g., in the Beatrixstraat. This street has been provided with pervious pavement capable of storing water, and at most of the houses, downspouts have been disconnected from the sewer system. The party also visited a new housing estate, Het Leeuwse Veld, where various climate adaptation measures have been integrated in a playful manner. Adjacent to this estate, a large water storage area has been constructed, featuring a Nature playground. The measures ensue from a regional partnership between the district water board, the province, and the municipalities of West Maas en Waal, Nijmegen, Berg en Dal, Beuningen, Wijchen, Heumen, and Druten.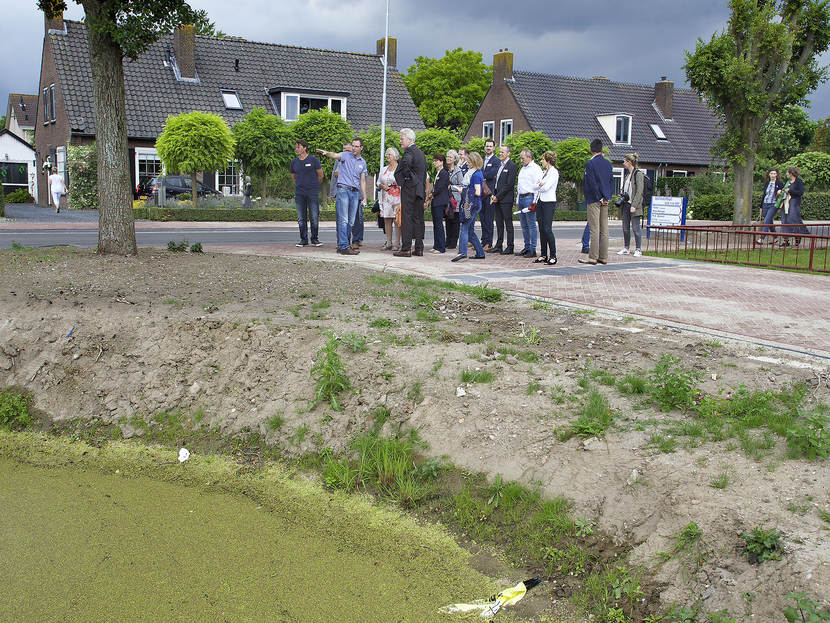 Wim Kuijken: 'I am impressed by the way that Land van Maas en Waal and Rijk van Nijmegen are collaborating on climate-proofing this area. The results are already becoming manifest, and the work on measures for the future is in full swing. A vast number of municipalities in the Netherlands are struggling with similar taskings. They can certainly draw inspiration from these efforts to substantiate their ambitions in the field of spatial adaptation.'
The working visit to Beneden-Leeuwen precedes the publication of the first Delta Plan on Spatial Adaptation, that will be presented in September as a component of the Delta Programme 2018.