Delta Programme Commissioner visits Ameland
At the invitation of Mayor Albert de Hoop and member of the Provincial Executive Henk Staghouwer, Delta Programme Commissioner Wim Kuijken visited the island of Ameland on 5 October, defying a force 9 gale and gusts of wind up to 120 km/h. Appropriate weather for becoming acquainted with the flood protection in place on the Wadden Islands, the pursuit of water-resilient and climate-proof spatial design in the islands, and the steps to be taken if things nonetheless should go wrong some time.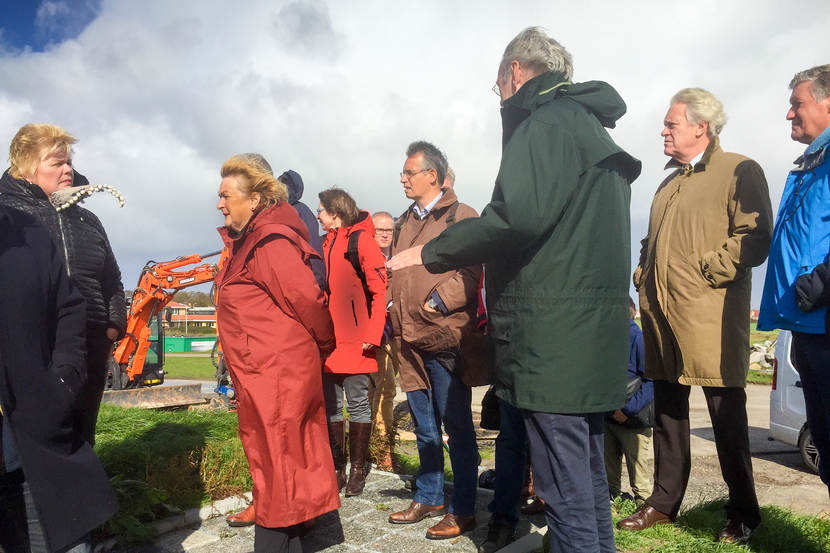 The protection provided by a sandy coast is important to the Wadden Islands' flood risk management, under the motto of "flexible where possible, rigid where needed". Representatives from Rijkswaterstaat brought the Delta Programme Commissioner up to date on Coastal Genesis 2.0, a long-term research programme focused on sand transport along the Dutch coast and the role of sand replenishment in this process. Within this context, a pilot is being set up involving sand replenishment of approx. 5 million m3 on the outer delta between the islands of Ameland and Terschelling, the Amelander Zeegat. In addition, the Wetterskip Fryslân district water board is engaged in the improvement of a 16.5 km stretch of Wadden Sea dyke at Ameland.
The Wadden Islands have joined forces with the Fryslân security region (in coordination with the Noord Holland Noord security region, that covers the island of Texel) to improve their resilience, in order to reduce the impact of flooding and severe waterlogging and to enable vital functions to continue to operate. Action perspectives and emergency relief are also being considered. This is especially important with respect to the Wadden Islands, because – more so than other areas – they are left to their own devices in the event of a disaster. An impact analysis / stress test has recently been conducted, as has an exploratory study into action perspectives in the event of an impending flood and waterlogging. The point of departure is to maximise the coping capacity of individual residents, in order to free up the emergency services' capacity for residents who are unable to fend for themselves, such as elderly, disabled, and sick people. The exploration also showed the necessity of taking additional account of the many tourists visiting the Wadden Islands. The Fryslân security region is now going to elaborate the strategies to be pursued for each island, and will develop concrete measures and agreements, together with the Wadden Islands, including a collective disaster drill.
Wim Kuijken is pleased with the further elaboration of multi-layer flood risk management on the Wadden Islands. 'It is a good thing that the Fryslân security region is taking this up actively, together with the municipalities, and expressly involving the second layer as well. This ties in well with the Delta Plan on Spatial Adaptation, that was presented during Prinsjesdag last month. Municipalities intending to conduct a stress test in the next two years will need to determine how they can improve the water resilience and climate-proofing of their spatial planning, in order to reduce the impact of extreme weather, and how they can better prepare themselves for disasters.'