Delta Programme Commissioner impressed by freshwater supply initiatives in South Netherlands
On Thursday 12 October, Delta Programme Commissioner Wim Kuijken visited the southern provinces of the Netherlands, at the invitation of Daan Prevoo, member of the Provincial Executive. Here, Mr Kuijken was brought up to date regarding several projects launched in the context of the freshwater supply measures implementation programme in place for the Southern Elevated Sandy Soils.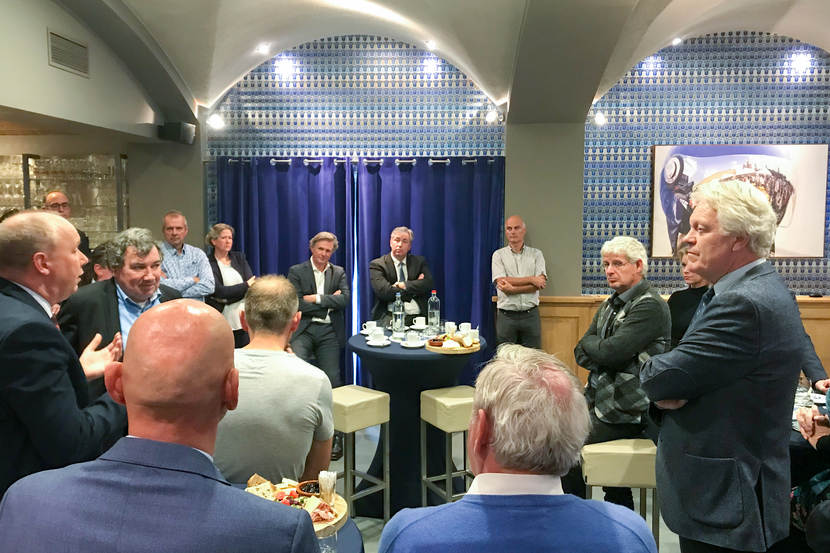 At the premises of one of the farmers involved in Leunen (Limburg), the stakeholders discussed the ongoing initiatives in the areas of Loobeek and Breevennen. Here, farmers, the district water board, municipalities and the province of Limburg are working on a climate-resilient water system and a living environment offering economic perspectives, with an eye to a proper balance between nature, agriculture, and recreation. With a view to the continued freshwater supply, the parties involved have embarked on a sub-irrigation pilot: a form of subsoil irrigation involving a drainage system for the subsoil dissemination of water, which ensures that roots remain moist and which reduces evaporative losses.
The Waterklaar [Water-ready] project launched by municipalities and the district water board in North Limburg is aimed at the retention of water and minimising waterlogging by disconnecting downspouts from the sewer system. Horticulturists are trained in the region to provide residents with proper advice regarding the design of their gardens. In addition, educational kits have been developed for the horticulturist vocational training programme.
The party also visited the Bavaria brewery to discuss the Boer Bier Water [Farmer Beer Water] initiative launched by the business community, local farmers, and the government. They have joined forces in the Boer Bier Water project to protect the freshwater sources in the area from pollution and address the demand for freshwater in a sustainable, responsible manner. For example, Bavaria no longer drains its residual water but purifies it for redistribution among local farmers and market gardeners.
The projects visited demonstrated that different and innovative solutions can be developed by entering into a mutual dialogue at an early stage, and making optimum use of one another's strengths and expertise.
Reducing the demand for freshwater is one of the key spearheads of the Delta Programme. Dry spells are becoming increasingly drier and last increasingly longer. Consequently, the continued availability of sufficient fresh water will become increasingly important and less of a matter of course in the years ahead. During the visit, Mr Kuijken referred to the Boer Bier Water project as "a pearl of a project realised in this area, in which the stakeholders take action of their own accord and the government joins in". The prevention of water shortages calls for a concerted effort by all the governments and all the freshwater consumers. In the long run, this is the only way to ensure a continued and affordable supply of sufficient freshwater in the Netherlands.