Visit to Munnikenland: textbook example of a natural climate buffer
On 19 June, the Delta Programme Commissioner was invited to meet with the eight directors of the Natural Climate Buffers Coalition to discuss Natural Climate Buffers 2.0. A phase of gaining experience with climate buffers, from 2008 until mid-2014, in which more than 50 climate buffers were completed or set up, was followed by the launch of the Natural Climate Buffers 2.0 programme at the end of 2017, within the framework of the LIFE IP Delta Nature programme.
Climate buffers are areas in which natural processes are allowed to run their course. Thus, they develop along with climate change, improving the liveability of the Netherlands and simultaneously ensuring its security.
The day started off with a working visit to the Munnikenland area, which has been restructured within the Room for the River programme. In the westernmost tip of the province of Gelderland and at the convergence of the Rivers Waal and Afgedamde Maas, the Waal dyke has been relocated inland, creating more room for the River Waal. This has increased the river's discharge capacity during extremely high water, without raising its water level excessively. Furthermore, channels have been excavated in the floodplains, improving the discharge capacity even further. Arjan Snel of nature organisation Staatsbosbeheer stated that he regarded Munnikenland as the best example of a natural climate buffer: it allows plenty of room for natural processes and thus for nature development.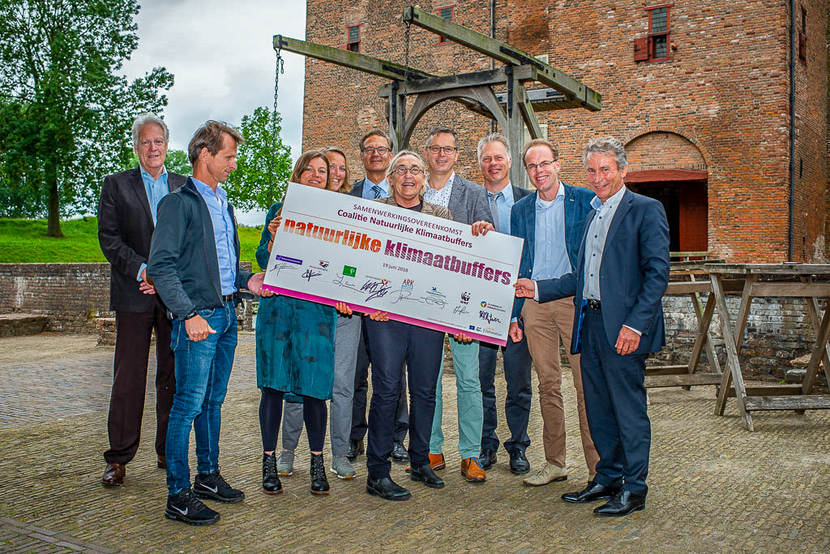 Subsequently, the party proceeded to Slot Loevestein castle, where the chair of the Coalition's directors' collective, Nico Altena (Natuurmonumenten nature organisation), led the discussion about how climate buffers can help resolve the Delta Programme taskings. The Delta Programme Commissioner underscored the importance of an adaptive, flexible approach, considering the uncertainty we are faced with as a result of climate change. Climate buffers fit within such an approach. Possibilities for subsequent steps were explored. The Coalition presented the Delta Programme Commissioner with the first "Climate Buffer Kiss" in the form of a little forget-me-not plant as a symbol of the collaboration between the Delta Programme and the Natural Climate Buffers Coalition. In conclusion, the Coalition's directors signed the Life-IP Natural Climate Buffers Coalition 2.0 collaborative agreement, in the presence of the Delta Programme Commissioner.