Fourth IJsselmeer Summit in the province of Fryslân
Yesterday the Delta Programme Commissioner addressed the fourth IJsselmeer Summit in Leeuwarden, at the invitation of member of the Provincial Executive of Fryslân Sander de Rouwe and Wetterskip Fryslân chairman Paul van Erkelens. He spoke about the taskings for the future and the special role that the IJsselmeer Region has played within the Delta Programme up to now. 'The IJsselmeer Region is a wonderful showcase for the essence of the Delta Programme, viz., governments joining forces and developing widely supported solutions on the basis of a joint fact-finding process. This is how flexible water level management was discovered.'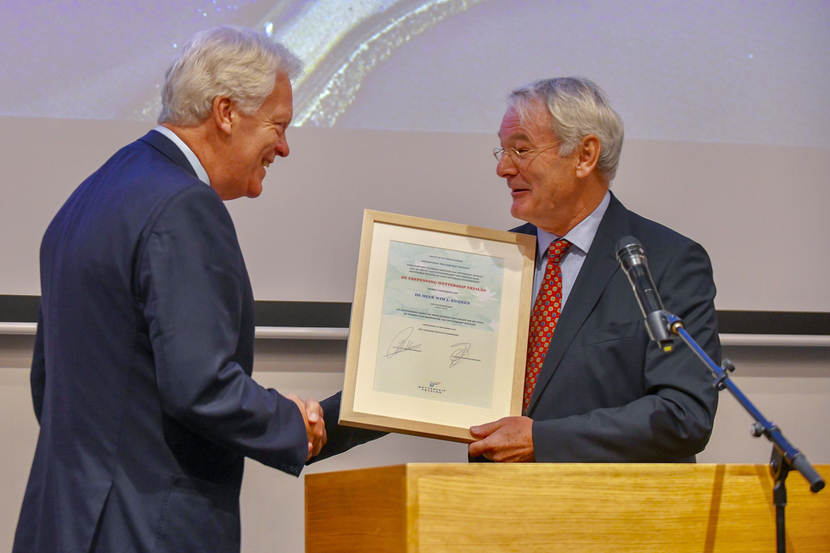 The signing of the new water level ordinance this summer marked an important milestone in the Delta Decision on the IJsselmeer Region. The Delta Programme Commissioner expressed his great appreciation to all the stakeholders in the IJsselmeer Region for the results achieved and thanked those present for the inspiration provided by the overall commitment.
The Delta Programme Commissioner also indicated that the work will never be complete. 'We will need to continue to prepare for weather extremes, such as the drought we experienced this summer. Building in flexibility is crucial in this respect. In 2021, we will review whether we are still on the right track, or whether developments dictate a change of course.' This review will also take account of the insights provided by Deltares research institute regarding a potential acceleration in sea level rise as a result of the melting and fracturing of the Antarctic ice caps. Active participation by the community remains essential. For that reason, he called on the IJsselmeer Region to continue this effective form of collaboration, including the annual IJsselmeer Summits.
The fourth IJsselmeer Summit was held in the context of the European Water Technology Week. Following the Delta Programme Commissioner's address, Johannes Boonstra, member of the Wetsus executive board, shared his findings regarding this week and discussed the relationship between water technology and the Delta Programme, in particular the freshwater supply goals. Subsequently, Pieter den Besten of the Ministry of Infrastructure and Water Management addressed the IJsselmeer Region Agenda for 2050. The IJsselmeer Region not only features taskings in the field of climate adaptation but also taskings related to other fields, such as leisure activities, energy transition, and nature. To interconnect these taskings, 61 parties signed the IJsselmeer Region Agenda for 2050 in May of this year. The afternoon schedule featured presentations on the developments in the Frisian IJsselmeer ambition programme, the improvement of the IJsselmeer Closure Dam (Afsluitdijk), and the IJsselmeer Region energy exploration in the Afsluitdijk Wadden Centre.
During the IJsselmeer Summit, water board chair Paul van Erkelens presented the Delta Programme Commissioner – the first non-Frisian recipient – with the Wetterskip Fryslân medal of honour for his exceptional services to the water board and in the purview of Frisian water management.