Delta Commissioner visits Flevoland
 On Tuesday 21 November, Delta Commissioner Wim Kuijken visited Flevoland at the invitation of water authority chair Hetty Klavers and provincial executive councillor Jaap Lodders. They visited the fresh water and spatial adaptation themed projects Spaarwater (Sustainable Water Use) and Zicht op de Bodemstructuur (Insight into Soil Structure) in Zeewolde. They also visited the residents of Oosterwold, a new district of Almere where they saw the ultimate form of 'DIY area development' and were informed of the developments regarding the Floriade which will be held in Almere in 2022.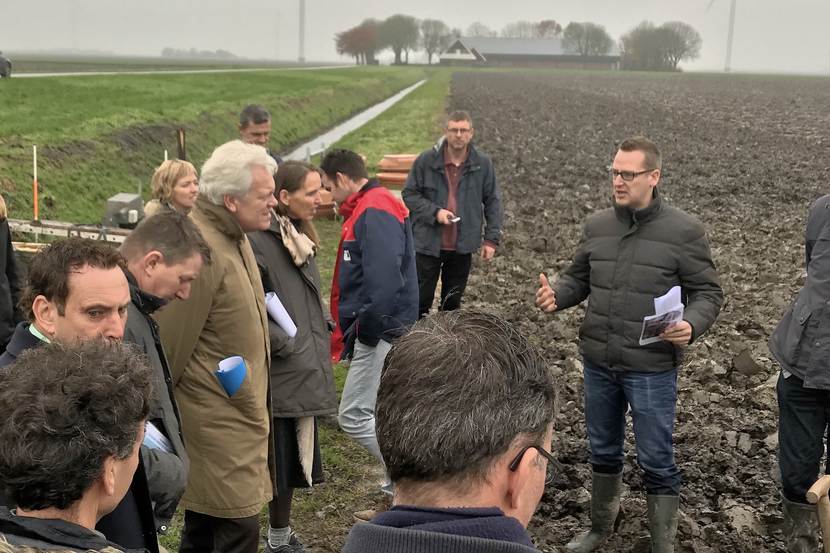 Farmer Peter Hilgers welcomed the group at his farm in Zeewolde where he spoke to them about the Spaarwater and Zicht op de Bodemstructuur projects. Through these projects, the agriculture sector, the water authority and the province are acting in anticipation of significant subsidence in Flevoland. The aim is to prevent this subsidence posing a threat to water management and the condition of agricultural land in the long term. The Spaarwater project also focuses on saving water. Rain water, shallow and deep ground-water levels, and the chemical makeup of the ground water are being measured by laying new drainage pipes and placing four sensors on Hilgers's farm. The data is also used to for water management purposes. During the visit, the Delta Commissioner saw how, by digging soil pits, farmers can discuss their findings and learn more about the soil structure and what improvement measures to take.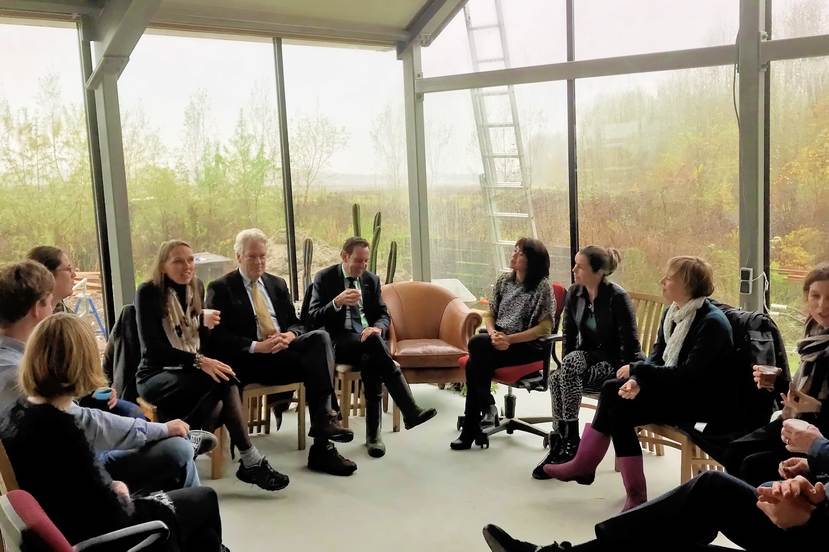 In Oosterwold, water management in the region was discussed, as well as the challenges facing residents, the water authority and the province. Oosterwold is a green, agricultural area between Almere and Zeewolde. The spatial design of the area is totally in the hands of those who live there. The residents not only determine the size of their plot of land and house, but they also make decisions regarding roads, green spaces, water and public spaces. And, they have to realise these, too. This demands good communication and coordination between the water authority and the residents.
The visit ended at the headquarters of the 2022 Floriade. Municipal executive councillor Tjeerd Herrema and Floriade Amsterdam-Almere director Janne-Wietse de Vries shared with their guests the plans for the Floriade in 2022. The theme of the seventh edition of the international horticultural expo is Growing Green Cities, and the focus will be on pressing issues including food security, climate change and energy production. A 'Street of the Future' will also be constructed to display innovations from every field. Water will play an important role in this. The aim is that in 2022, Floriade will be an expo for six months and will then become a green suburb.