Southwest Delta Working Conference focuses on new social taskings
On 15 March, some 190 stakeholders gathered at the annual Southwest Delta working conference. Once again, the Delta Programme Commissioner attended the conference as a guest. As in any Delta Programme region, collaboration and networking is of crucial importance; partners need one another to implement the preferential strategy, especially when it comes to exploring how the energy transition, circular economy, and climate adaptation taskings can foster a sustainable, safe, and economically viable Southwest Delta.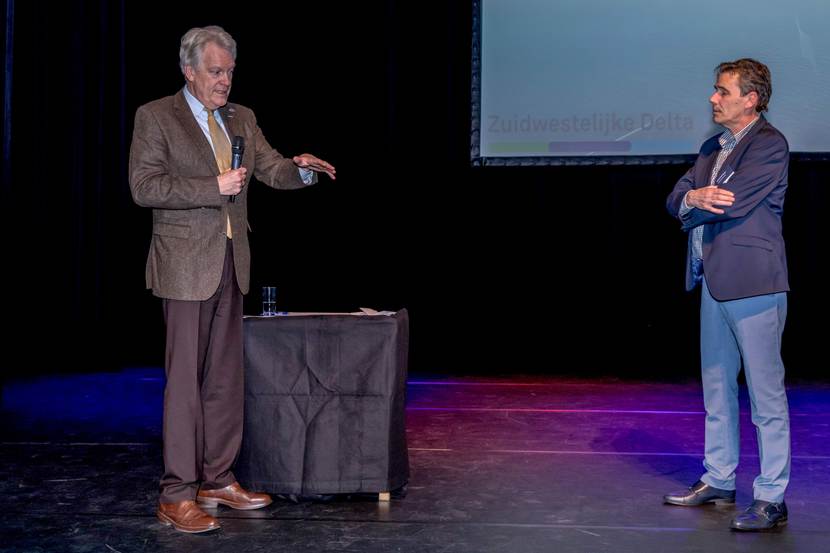 The conference kicked off with a video film in which several members of the Southwest Delta Regional Consultative Body explained the importance of the ecological resilience of the water system and the new social taskings. Ben de Reu, Chairman of the Regional Consultative Body, hosted the conference and welcomed those present. He opened the meeting by announcing the much-applauded decision of the national government to allocate a sum of 75 million euros for constructing a culvert in the Brouwersdam. This will boost the restoration of the Grevelingen ecology. The decision was prompted by the single voice of the concerted regional partners. Furthermore, the culvert will create an opportunity for constructing a tidal plant; this will be elaborated separately. The next challenge in the Southwest Delta is a decision regarding the salinisation of the Volkerak-Zoommeer lake. The aim is for a meaningful decision in this respect to be set down before the end of this year.
Delta Programme Commissioner Wim Kuijken congratulated all those involved on the good news regarding the Grevelingen. This generates new energy, not least a decision on the Volkerak-Zoommeer lake. 'The story must tally. It is important for all the regional partners to join forces and reach consensus,' Wim Kuijken stated. The story is about both the short term and the long term, about restoring the ecological resilience, achieving a sustainable freshwater supply, and the importance to the economy. When asked about his opinion of the Southwest Delta ambition to embark on new social themes, the Delta Programme Commissioner indicated that he favoured an integrated approach. 'Mitigation and adaptation are two sides of the same coin.' He did point out, however, that excessive clustering could lessen the focus on the attainment of goals. For example, the Delta Programme is focused on the goals of flood risk management and freshwater supply.
Following the plenary session, the participants attended workshops to discuss the energy transition, climate adaptation, the circular economy, the ecological basis of the delta, and the knowledge community.
Leo Adriaanse, Southwest Delta programme manager, looked back on the conference with a great deal of satisfaction. 'The Grevelingen decision obviously gave everyone a lot of energy to continue the work on the taskings facing our delta.'