Delta Programme Commissioner visits Drentsche Aa area
On Tuesday, 3 July Delta Programme Commissioner Wim Kuijken visited the province of Drenthe. At the invitation of district water board chair Geert-Jan ten Brink, he visited three different locations in the Drentsche Aa area between Schipborg and Papenvoort in the northern part of the province.
During the working visit, several elements of the Delta Programme were discussed. In collaboration with stakeholders such as municipalities, the province, and nature management organisation Staatsbosbeheer, the district water board is working on taskings relating to flood risk management, water availability, and water quality in the area.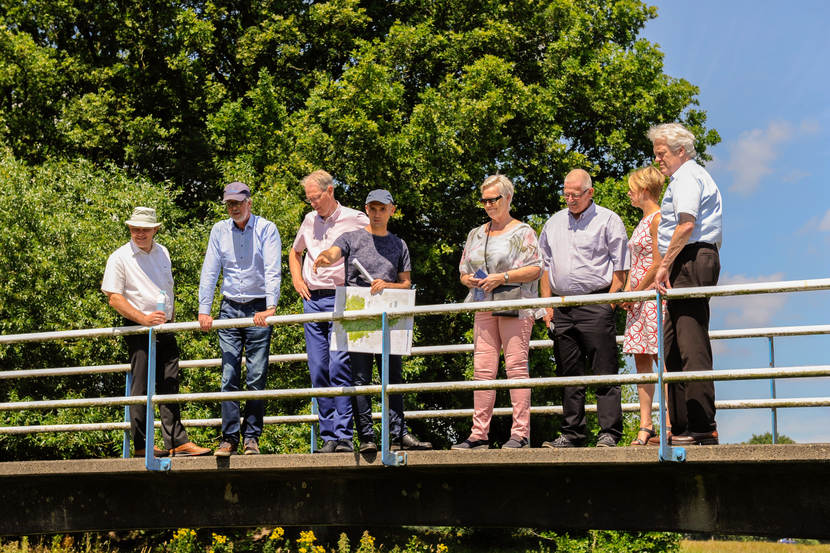 At the Loon separation structure, the party reviewed the reorganisation of brook sections in the purview of the water storage tasking. In 2015, the brook valleys of the Deurzerdiep and Anreeperdiep headwaters were redesigned. As a result of climate change, the water management pursued has proved insufficient to protect local residents from rising water. Re-meandering the brooks has created more room for water. Furthermore, the habitats of local plants and wildlife have significantly improved. In 2017, a study was launched into the effectiveness of raising brook beds and in 2018, another study was launched into the effectiveness of introducing a shallow drainage zone along the brook valleys.
The next stop of the working visit involved the Horstmaat, a lower-lying area that used to be farmland. A pumping station kept this polder section dry, which resulted in an unnatural water level. Now that it is no longer drained, the water level has risen. Wet grasslands are developing, as are transit peat bogs and quaking bogs, unique in brook valleys in the Netherlands. The area serves as water storage and thus reduces waterlogging in part of the nearby city of Assen.
The party also paid attention to water quality and reviewed the measures taken by regional farmers in order to meet the requirements regarding drinking water quality in the Drentsche Aa. At the third stop, farmer Jan Sijbring explained how he uses field borders seeded with a flowery mix to keep the water quality up to par. Field borders are carried through in areas featuring major bottlenecks in terms of crop protection agents. Furthermore, the party considered the transfer of freshwater from other management areas and the requirements imposed to this effect under various regulatory schemes.
Following this working visit, Delta Programme Commissioner Wim Kuijken stated that he was impressed by the expertise, the insights, the passion, and the enthusiasm of the people working on the taskings in this area. 'We are faced with major changes; it is a dynamic process. This calls for flexibility in your systems. It is wonderful to hear and experience how you are tackling this here, in this area, together with the local stakeholders, and how you are collectively looking for solutions.'