Best attended National Delta Conference ever
There was not a single seat left in the plenary hall of the IJsselhallen convention centre in Zwolle when the first speakers, Delta Programme Commissioner Wim Kuijken and day chair Inge Diepman, took the stage at the ninth Delta Conference. Together, they looked back on nearly nine years of the Delta Programme and pointed out the taskings for the future. In order to emphasise this future and the importance of retaining the urgency, Wim Kuijken symbolically passed the baton, in the form of the Delta Programme Commissioner's orange work coat, to his successor Peter Glas, who will take over the post of Delta Programme Commissioner with effect from 1 January 2019, as Wim Kuijken will be retiring. 'I can't stop smiling,' Peter Glas when day chair Inge Diepman asked him how he felt about his appointment. 'It is a great honour for me to tackle these issues together with all of you. I am looking forward to it.'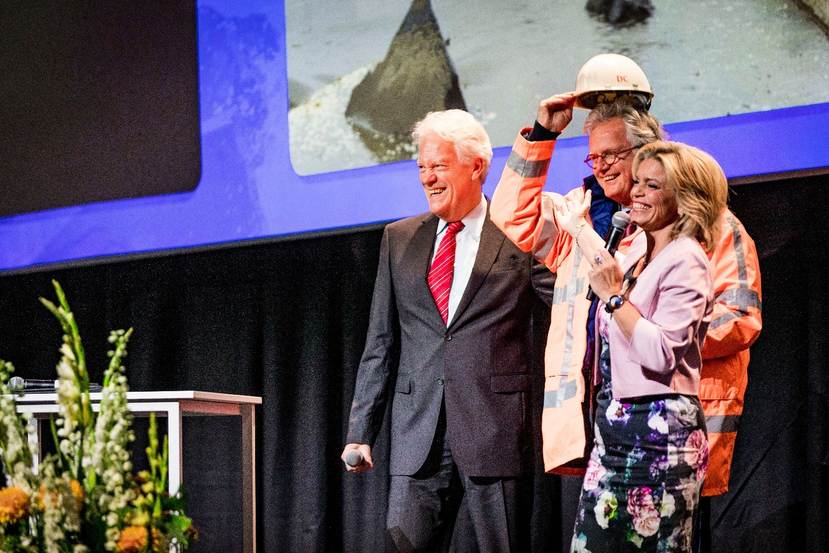 A little later, the Minister of Infrastructure and Water Management pressed a button to officially open the conference. She spoke about climate change, which forces itself upon us as a new reality which must not be ignored. She applauded the Delta Programme with the words, 'We have a strong Delta Programme. Resilient where needed, flexible where possible. Working on water is a never-ending task. Because a thriving people is looking ahead to its future.'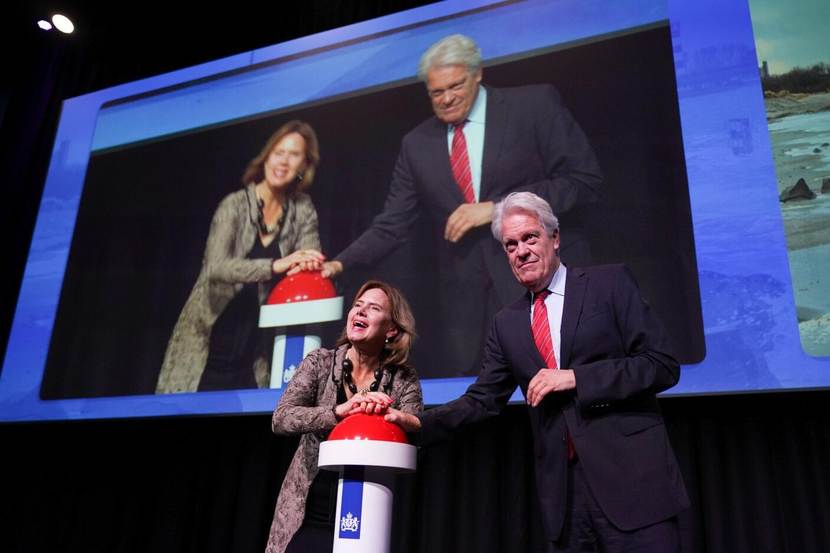 Keynote speaker Reinier de Graaf (Office for Metropolitan Architecture) carried the audience away with his presentation entitled "Free to perish". He spoke about the major developments of climate change and urbanisation and made a case for a seismic shift in people's perception of sustainable architecture. Reinier: 'Urbanisation is a kind of death wish in the context of climate change.'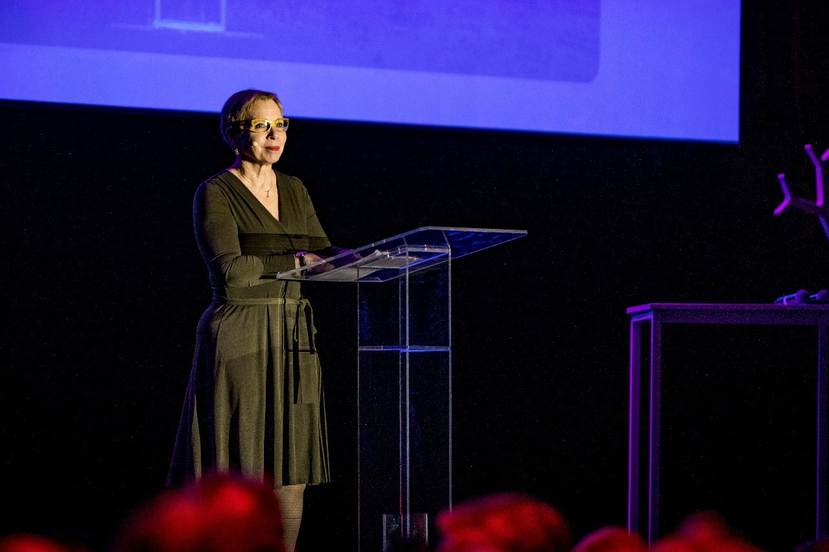 Tracy Metz, a member of the second Delta Committee chaired by Cees Veerman, addressed the audience in her spoken column on her experiences on the committee, ten years ago, and the taskings she views for the future.
The Delta Programme partners, represented by Ed Anker (Association of Netherlands Municipalities), Ben de Reu (Association of Provincial Authorities), Hans Oosters (Association of Dutch Regional Water Authorities), and Michèle Blom (Rijkswaterstaat), engaged in a discussion with Inge Diepman with reference to quotes by Wim Kuijken. 'Administrative courage, solidarity, innovation, and flexibility are essential in order to be able to face the uncertain future,' the administrators stated. Hans Oosters, chairman of the Association of Dutch Regional Water Authorities, presented Wim Kuijken with a medal of honour.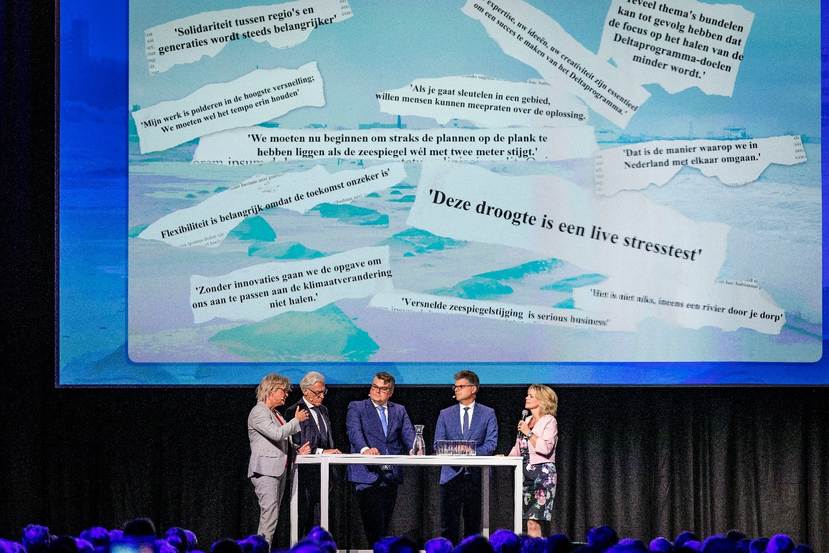 Parallel sessions
This year's best attended parallel session involved the potential acceleration in sea level rise. Following the publication in September of the Deltares study into the potential impact of an accelerated sea level rise, some 600 members of the delta community reviewed the impact and consequences of a potential acceleration in sea level rise. The parallel session on Freshwater Supply and Spatial Adaptation – a combination that needs to be made increasingly frequently within the Delta Programme and in actual practice – was also well attended and generated interesting insights.
The parallel session on the future of the river system, in which the new programme was discussed, initiated a discussion on the proper strategy. Other topics discussed in the various parallel sessions included environmental visions, stress tests, and risk dialogues.
Forty sub-programmes and partners presented themselves at the Delta Parade: the pre-eminent spot for meeting one another, sharing information, and gaining new insights. Furthermore, the day's schedule featured various theatre sessions, including a college tour with the Delta Programme Commissioner, focusing attention on drought, dyke workers, soil subsidence, and a host of other issues covered by the Delta Programme.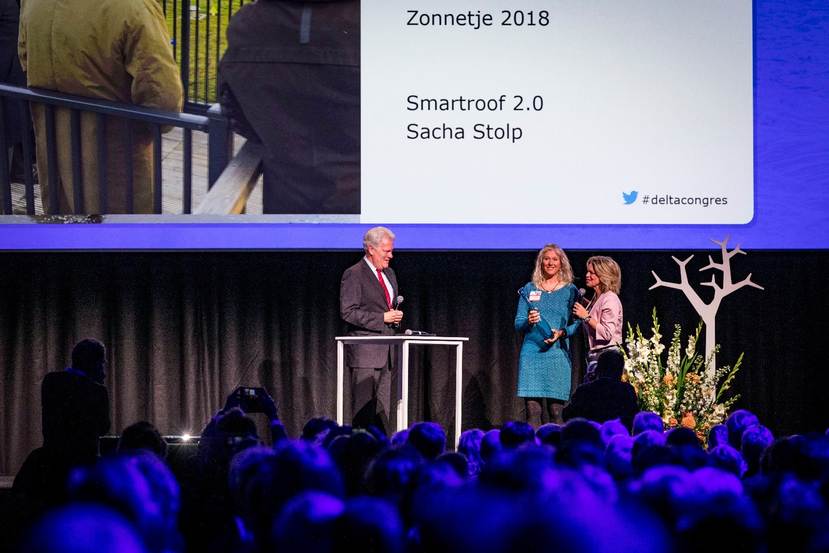 Spotlight
Every year, the Delta Programme Commissioner turns the spotlight onto a Delta Programme individual or project. This year, the spotlight was turned onto Smartroof 2.0. in Amsterdam, a remarkable project featuring a rock-solid combination of science, innovation, and a practical solution to a huge problem. The business community, governments, and stakeholders have converted a black bituminous roof into an innovative "blue-green" roof. Rather than rainwater being drained into the sewer system, this roof collects and stores torrential downpours, in order for the water to be reused for natural irrigation of the roof. This has a great cooling effect on the building. In addition to scientific publications, the project also generates practical solutions. Project leader Sacha Stolp was visibly elated by this special acknowledgement and expressed the hope that in the near future the Netherlands will see many more of such "ruggedly attractive" roofs.