Climate adaptation in the province of Zeeland
On 13 November, Delta Programme Commissioner Wim Kuijken visited the province of Zeeland. Under the auspices of the province, all the municipalities of Zeeland, the district water board, the Security Region, and Rijkswaterstaat are collaborating on a Zeeland Climate Adaptation Strategy. This strategy is aimed at preparing the region for increased waterlogging, heat, and drought, and at reducing the impact of potential floods. The Delta Programme Commissioner was brought up to date on the collaboration and several ongoing projects, among which the heat strategy pursued in the city of Middelburg. He also visited Nieuwdorp, where the government, the business community, and residents have embarked on the energy transition and climate adaptation taskings.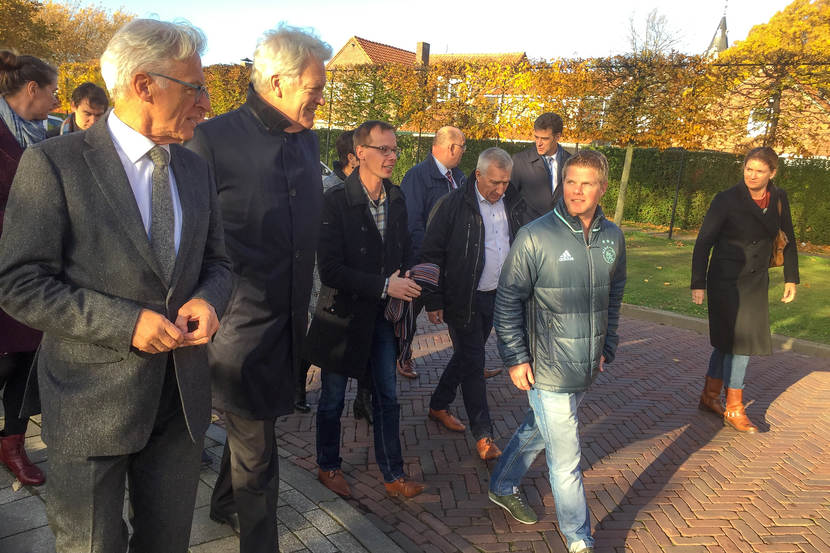 This region has been collaborating on climate adaptation since 2014. The efforts are being expended in accordance with the seven steps set out in the Delta Plan on Spatial Adaptation. As of now, half of the municipalities have conducted the stress test in 2018; the remaining half will follow suit in 2019. The municipalities support one another in the preparations, and share experience and results. Furthermore, the province of Zeeland is focusing a great deal of attention on containing the impact of flooding. For example, studies are being conducted into reducing the vulnerability of vital and vulnerable functions, into the use of regional flood defences to contain the impact of a flood, and into evacuation options such as the Vlissingen-East sea port grounds.
In Nieuwdorp, the Delta Programme Commissioner visited the Climate Street project, in which the municipality has engaged in close collaboration with local residents to develop a strategy and an action programme for the taskings involved in the energy transition and climate adaptation. The main lesson is that this project involves, in particular, a social tasking. Residents take action not just because of the climate, but also because they feel committed to the liveability of their village. The chair of the Nieuwdorp village council spoke positively about the municipal authorities, who are open to their wishes. The Delta Programme Commissioner pointed out the particular importance of taking measures at the street level, in our country's capillaries, because that is where it all starts. 'Everyone will need to do something, because no-one can resolve this alone.'
The working visit was concluded by a visit to the MSP Onions BV company, which in collaboration with a nearby museum has provided additional water storage. Furthermore, the company is working on realising a substantial CO2 reduction in its operations, and on building a fully automated and gas-free new onion plant: a world first.