Delta Programme Commissioner accepts Preferential Decision on Gorinchem-Waardenburg dyke improvement
On Monday, 19 November Delta Programme Commissioner Wim Kuijken visited the Gorinchem-Waardenburg dyke improvement project. Here, Vic Bogermans presented him with the Preferential Decision. This decision was preceded by a unique process, involving several years of close collaboration between five residents' working groups, the Rivierenland district water board, and the Graaf Reinald Alliance to prepare the plans for the dyke improvement. Wim Kuijken was impressed by the manner in which this committed group of residents and businesses is participating in the project.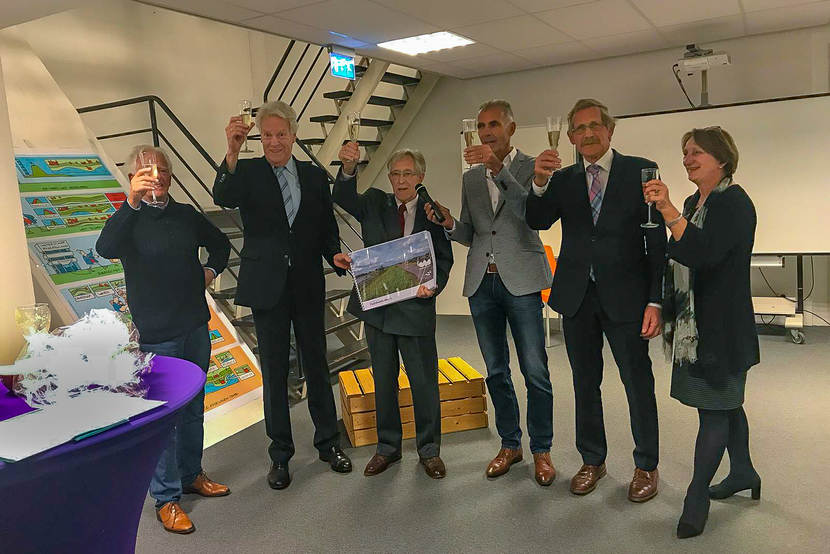 The five working groups, comprising a total of 100 residents, ensured that their ideas were placed on the agendas of the governments involved. Not by way of a wish list but aimed at collectively discussing and possibly tackling opportunities and bottlenecks. Delta Programme Commissioner Wim Kuijken: 'You have set a fine example here. This is how we should deal with these types of projects in the Netherlands. It generates sympathy for the choices that are ultimately made.'
This collaboration also fostered a close relation between the residents involved and the Graaf Reinald Alliance staff, which ensured continuous mutual understanding. A preferential alternative for the dyke has thus been developed, in which concerns have been identified and, in some cases, removed, and in which opportunities and ambitions have been accommodated. The residents indicate: 'We're not there yet, but we are on our way!' Delta Programme Commissioner Wim Kuijken agrees: 'What you have accomplished here together is a wonderful inspiration for others. But your work is not done yet and you still have many years of collaboration ahead of you. Hold on to one another in the next phase.'
In the thirty years to come, the regional water authorities and Rijkswaterstaat will be improving 1100 km of dykes, some 400 km of which are located in the area around the major rivers. The Rivierenland district water board is working on these stretches together with residents and other stakeholders. One such stretch is the Gorinchem-Waardenburg project (23 km).