Governments investing in climate-proofing the Netherlands
On 20 November, the national government, municipalities, provinces, and district water boards signed the Administrative Agreement on Climate Adaptation. Under this agreement, the parties are giving impetus to climate adaptation efforts and the implementation of measures as set down in the Delta Plan on Spatial Adaptation. To this end, they are collectively investing 600 million euros in measures aimed at containing damage caused by drought, heat stress, and waterlogging.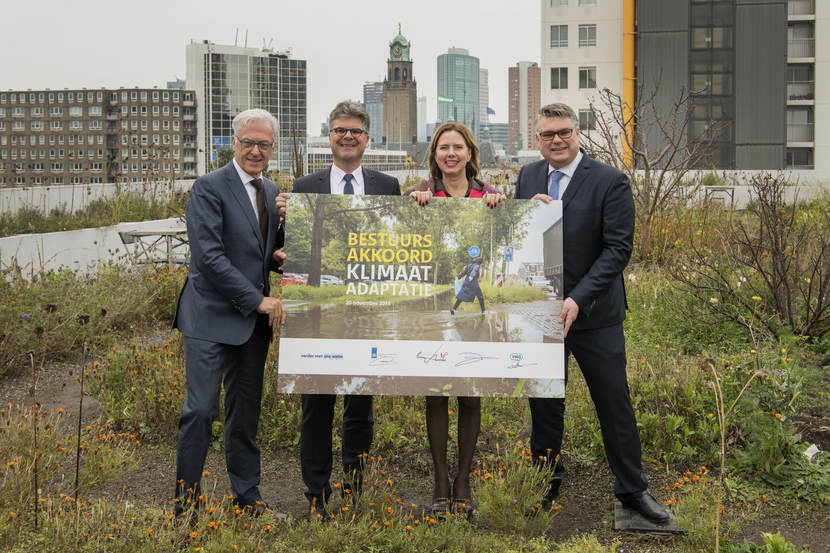 By 2020, regional plans will indicate how, and in which projects these funds can be used most effectively, based on stress tests that are currently being conducted under the Delta Plan on Spatial Adaptation. The municipalities, provinces and regional water authorities will contain the damage by greening cities and by creating additional water storage facilities in urban and rural areas. The additional funding made available under this administrative agreement will enable them to expedite such measures.
'The financial resources that are being made available enable us to rapidly commence the work,' says Hans Oosters, Chairman of the Association of Dutch Water Authorities. 'Only by investing together can we stay one step ahead of the changing circumstances.'
Cora van Nieuwenhuizen, Minister of Infrastructure and Water Management, calls the agreement a "real get down to work agreement". She considers it important to already take additional steps in redesigning streets, gardens, and our living environment to accommodate the impact of climate change. 'The weather extremes that we have experienced over the past year have made this abundantly clear.'
The Administrative Agreement on Climate Adaptation is a fine result of the collaboration underway within the Delta Plan on Spatial Adaptation. In 2017, the Minister presented the first edition of this Delta Plan to the House of Representatives.
Wim Kuijken then advised the Minister to annually add a substantial amount to the Delta Fund, in line with the investment agendas of the regional governments (Association of Netherlands Municipalities, Association of Provincial Authorities, and Association of Dutch Water Authorities) in the purview of the implementation of the Delta Plan on Spatial Adaptation. This Delta Plan sets out a strategy and measures for climate-proofing the Netherlands and improving its water resilience in order to be able to cope with extreme weather conditions.