Field trip to Wolvega water storage area
On 28 February 2019, the Delta Programme Commissioner visited the Wolvega water storage area, a remarkable project featuring room for water storage, nature, and leisure facilities. The project is the result of concerted efforts by the province of Fryslân, the Wetterskip Fryslân district water board, the municipality of Weststellingwerf, and the It Fryske Gea nature conservation organisation.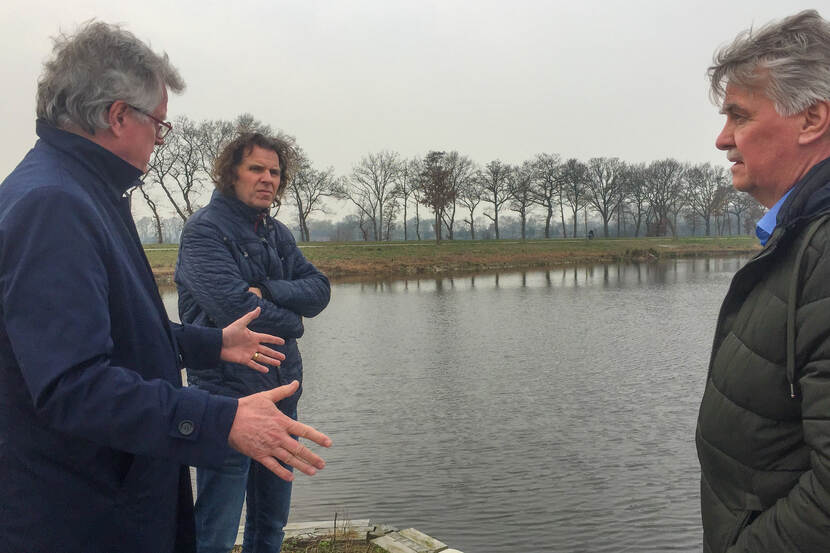 The field trip on 28 February commenced in the Weststellingwerf town hall. Mayor Van de Nadort and two policy advisors, Willem de Vries and Bert van Lubek, explained the project with enthusiasm.
Nature covers a total of nearly 90 hectares in the area, with room for water storage. South of the De Lende brook, a polder serves as a water storage facility. In addition, a large storage pond has been constructed between the village of Wolvega and De Lende. Via this storage pond, rainwater from Wolvega flows through two reed lands in which it is purified, and then into the De Lende brook. During the construction work, the sewer pipes between the villages of Wolvega and De Blesse were replaced and relocated.
The area now encompasses a wheelchair-friendly walking path that runs by the flower fields, the De Nieuwe Aanleg park, and the peat pits. A lookout at the end of the path offers a spectacular view of the landscape. 'A wonderful, integrated project to be proud of,' the Delta Programme Commissioner commented.