Delta Programme Commissioner takes a field trip to Water Vallei & Eem Platform
On 5 April 2019, Delta Programme Commissioner Peter Glas paid a working visit to the Water Vallei & Eem Platform. This is one of the 42 working regions that have embarked on the implementation of the seven steps set out in the Delta Plan on Spatial Adaptation.
The Platform involves collaboration between the Vallei & Veluwe district water board and the municipalities of Amersfoort, Baarn, Barneveld, Bunschoten, Ede, Eemnes, Leusden, Nijkerk, Renkum, Renswoude, Rhenen, Scherpenzeel, Soest, Veenendaal, Wageningen, and Woudenberg. This area accommodates a population of some 650,000. The Platform has originated as a water chain collaborative, which is now also addressing the spatial adaptation tasking.
The field trip was hosted by Hans van Daalen, alderman of the municipality of Barneveld and administrative chair of the Water Vallei & Eem Platform, together with Frans ter Maten, dyke council member of the Vallei & Veluwe district water board. Delta Programme Commissioner Peter Glas was accompanied by Titus Livius, vice Director-General of the Directorate-General for Water and Soil Affairs of the Ministry of Infrastructure and Water Management.
Risk dialogue
The working visit commenced in Rhenen city hall, where the party was welcomed by Mayor Hans van der Pas. In addition to alderman Peter de Rooy, the meeting was attended by several council members, policy officers, and residents who are all involved in mapping out the region's vulnerabilities to extreme weather. The seven steps of the Delta Plan on Spatial Adaptation, which include conducting a stress test and a risk dialogue, turned out to provide an excellent guideline. The conclusion was, however, that the commitment of local residents is essential in this respect.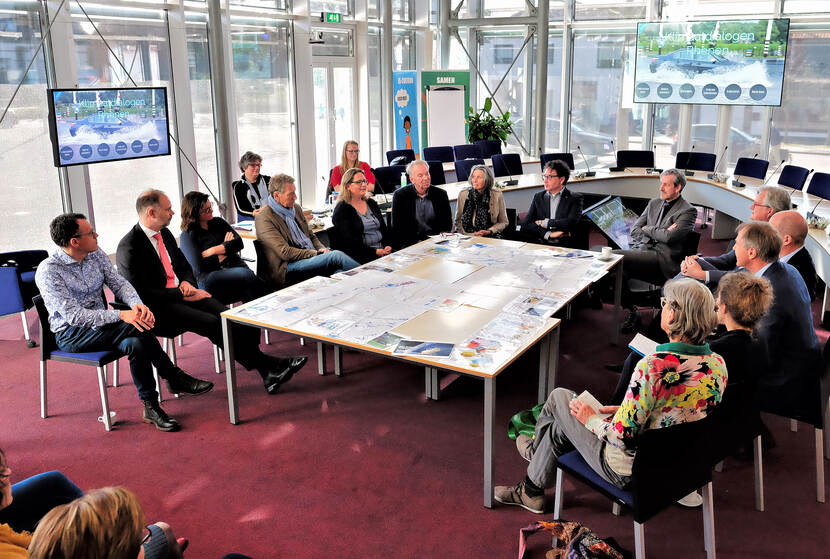 Farming awareness
In Lunteren, the party visited the organic cattle farm / cheese-making farm of "Remeker", where farmer Van der Voort demonstrated the importance of farming awareness. For ten years, he has been working on improving the soil quality of his grassland. His strategy helps to ensure healthy turf which is capable of absorbing excess water during wet periods, and which is less prone to drought during dry spells, even during last year's dry summer.
Mitigation and adaptation
In conclusion, the party visited the municipality of Amersfoort, where alderwoman Astrid Janssen and her administrative team explained how cultural history, climate mitigation, and climate adaptation are intertwined. The visit ended with a boat tour of the historic city centre and a visit to a water-resilient car park which has been redesigned with input from local residents. The conclusion was that the city of Amersfoort has embraced climate adaptation as the new standard in spatial planning projects.