Delta Programme Commissioner visits natural climate buffer in the Gulp valley
On 13 June 2019, at the invitation of the Natural Climate Buffers Coalition, the Delta Programme Commissioner visited the Gulp valley in the southern part of the province of Limburg. Peter Glas was introduced to the Coalition and viewed, by taking a look at the Gulp valley, how climate buffers can serve as natural sponges, among other purposes.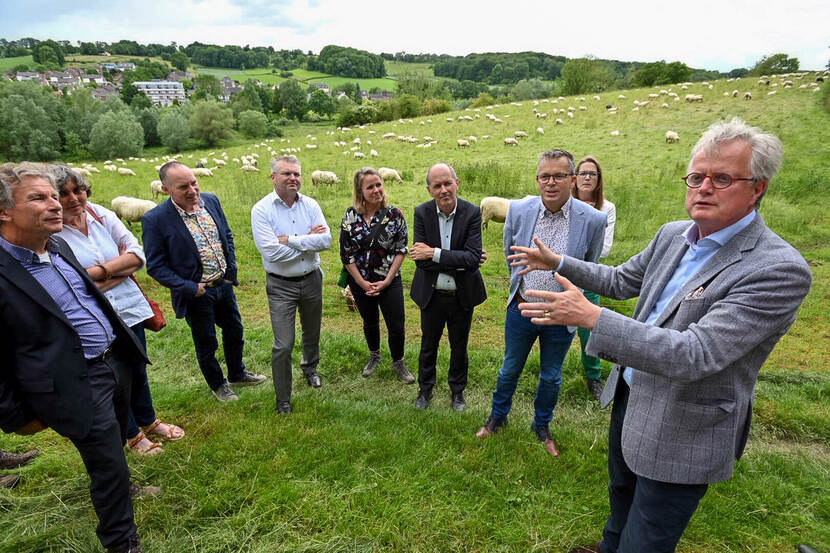 The Natural Climate Buffers Coalition (CNK) comprises 8 nature organisations: Natuurmonumenten, Staatsbosbeheer, Landschappen LN, De Natuur en Milieufederaties, Stichting Ark, Vogelbescherming Nederland, Waddenvereniging, and the World Wildlife Fund. Climate buffers are areas in which natural processes are given free rein. This enables them to keep pace with climate changes, and to help achieve goals such as those that have been set down in the Delta Programme. Meanwhile, the Coalition has realised more than 50 climate buffers, in collaboration with several partners.
One of the climate buffers that is currently being developed is located in the Gulp valley. In the summer of 2012, the Gulp valley was hit by a so-called flash flood. As a result of severe precipitation, the valley quickly filled up. Since 2018, the ARK Nature organisation has been tackling waterlogging and erosion at the source in order to climate-proof and flood-proof the Gulp and Boven-Geul valleys in Limburg. Restoring the natural water storage function of slopes and banks along the two rivers will slow down water flowing towards the valleys and towards flood-prone areas further downstream. Trees, hedges, and shrubs are given more room, which serves a dual purpose: it boosts water retention and reduces the risk of flooding. And it benefits nature: it provides food and habitats for wildlife. And finally, it also sequesters CO2. An additional contribution from the National Postcode Lottery and a grant from the European Agriculture Fund for Rural Development have facilitated afforestation and other measures.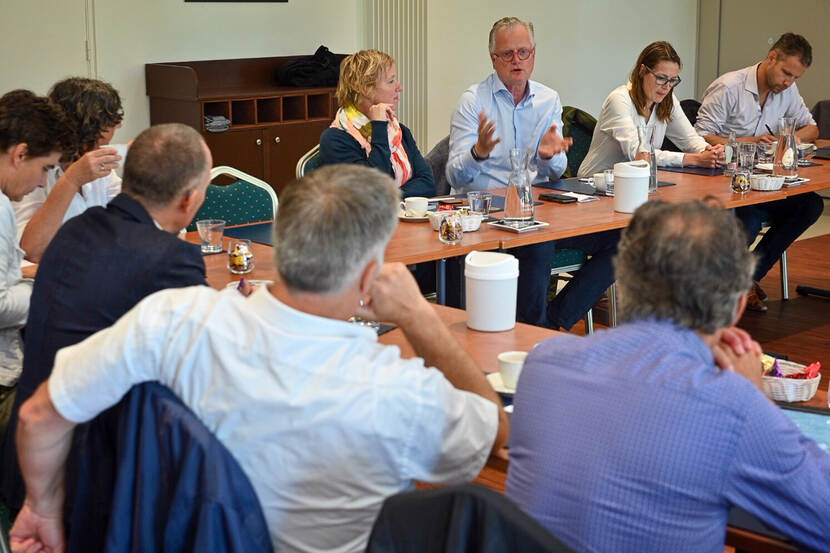 Following his visit to the Gulp valley, the Delta Programme Commissioner met with representatives of the Natural Climate Buffers Coalition to discuss how climate buffers can help to address the Delta Programme issues. After its 2008-2014 pilot programme, the Natural Climate Buffers Coalition decided to continue its efforts. Nico Altena of the Natuurmonumenten organisation and Chairman of the Coalition expressed the Coalition's ambition: "From pilot to mainstream". The Delta Programme Commissioner underscored the importance of moving along with nature when designing a mix of measures to address flood risk management, freshwater supply, and spatial adaptation taskings. Considering the uncertainties regarding the future, it is imperative to develop adaptive strategies. The Coalition finally presented the Delta Programme Commissioner with a "Water Carrier" bowl to symbolise collaboration between the Delta Programme and the Natural Climate Buffers Coalition.