Delta Programme Commissioner declares Prins Hendrik Sand Dyke "Delta proof"
It took ten years of close collaboration, consultation, and process formation. But once the die had been cast and the unique dyke improvement option had garnered the support of both the implementing parties and local residents, the construction of the Prins Hendrik Sand Dyke on the island of Texel was completed within six months.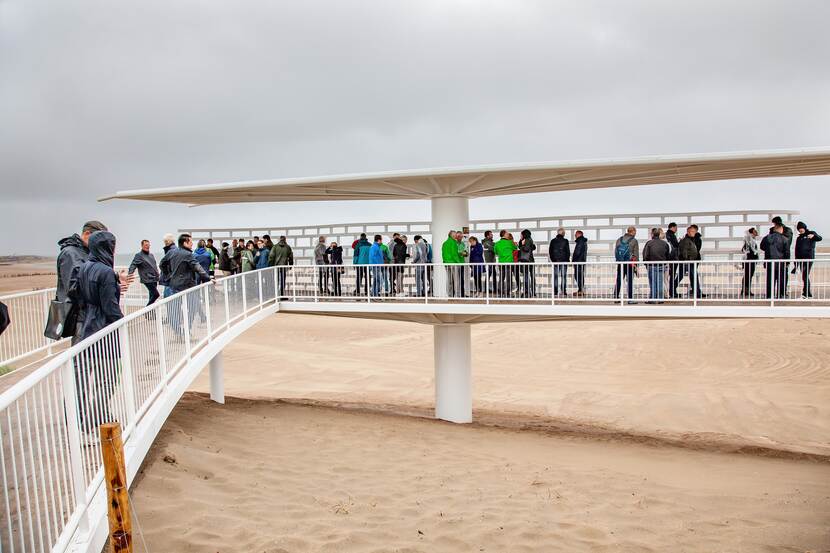 18 kilometres of Wadden Sea dyke have been improved to meet the new safety standards. Sufficiently flexible to move along with future developments, whilst preserving agricultural and nature values. It was for good reason that, during the opening ceremony on 4 September, Delta Programme Commissioner Peter Glas declared the Prins Hendrik Sand Dyke "Delta proof".
"Delta proof"
While the rain was pouring down, Peter Glas addressed those invited to attend the opening ceremony on the renovated dyke. 'We are standing here at the new lookout over the Prins Hendrik Sand Dyke. It features a telescope, which is also a fine symbol of how we are operating within the Delta Programme. Focused. And we are looking ahead, to the future. Taking an adaptive approach, which enables us to move along with future changes. In this respect, the Prins Hendrik Sand Dyke can be regarded as a model project. Here, we are learning how flood risk management and nature development go hand in hand. That is unique. Also in terms of the collaboration between all the parties concerned. Thus, a single project serves multiple interests and purposes. A wonderful achievement. I have experienced and inspected the project, and I officially declare it completed. The Prins Hendrik Sand Dyke is "Delta proof'!"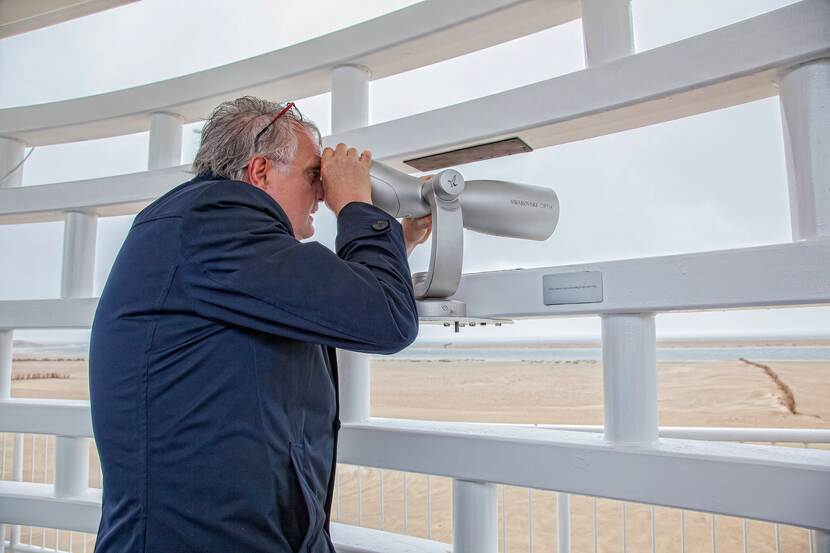 Unique collaboration
Prior to the opening ceremony, the Delta Programme Commissioner addressed a plenary session at the Netherlands Institute for Sea Research NIOZ. His speech once more turned the spotlight onto the national Delta Programme and the Delta Plan on Flood Risk Management. In a panel meeting, the parties involved – the Holland Noorderkwartier district water control board (HHNK), the Flood Protection Programme (Ministry of Infrastructure and Water Management), the province of Noord-Holland, the Wadden Fund, the municipality of Texel, contractor Jan de Nul, and national nature management body Staatsbosbeheer – collectively reviewed their unique collaboration in the run-up to and during the construction of the Prins Hendrik Sand Dyke. With immediate effect, Staatsbosbeheer will be the new nature management authority responsible for the area.