Utrecht Water & Climate partners joining forces to climate-proof region
'The climate is changing, and we are changing along with it by pooling our water and climate resources in a new regional Water & Climate network. From now on we will continue our mission as Water & Climate partners. Together with local stakeholders, we will set to work to keep the Utrecht Southwest region liveable for everyone.' This is what Herman Geerdes stated during the Utrecht Climate Summit, which was held last Friday, 18 October. Mr Geerdes chairs the Water & Climate board. This year's Climate Summit was focused on climate adaptation and regional collaboration.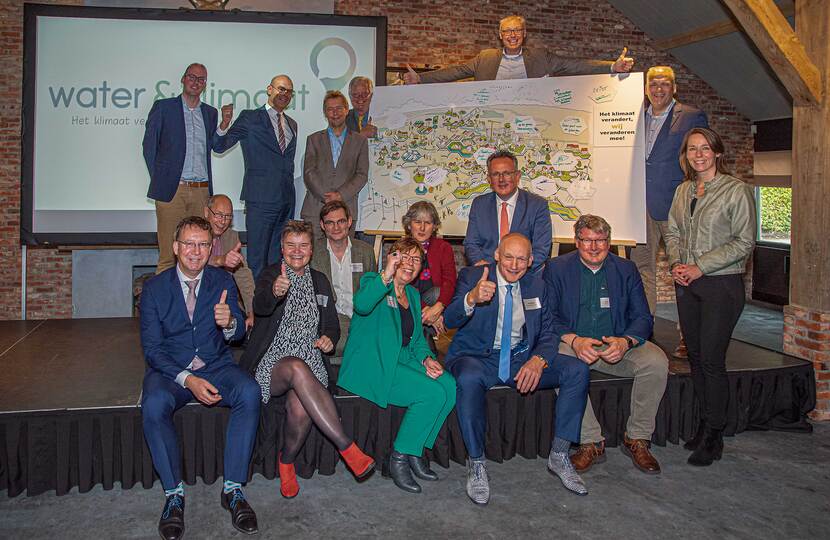 17 administrators from 14 municipalities in the Utrecht Southwest region, the province of Utrecht, the Stichtse Rijnlanden district water control board, and the Utrecht Security Region ratified the new partnership by signing the collaboration agreement during the climate summit.  
Inspiring and enthusing one another
At the climate summit, representatives of governments, NGOs, and the business community were brought up to date on how climate change will impact the Dutch Delta, the ways in which the Utrecht Southwest region can adapt to such changes, and the keys we possess to mitigate the impact of climate change. But above all, they entered into dialogues. Inspiring examples and ideas were presented, and new innovative initiatives were launched. The main guest speaker at the climate summit was Delta Programme Commissioner Peter Glas, who stated: 'Climate adaptation is not a trivial matter, it involves a transition. In this transition, it is imperative that we start taking account of climate changes in every physical intervention, i.e., we must start implementing such interventions in a climate-adaptive manner.'
Collaboration and customisation are crucial
The climate is changing. The Utrecht region will also be faced with increasingly frequent higher temperatures, more severe precipitation, continued drought, and a higher risk of urban flooding. Consequences that will affect everyone. Herman Geerdes: 'Only by joining forces can we keep the Netherlands and thus our Utrecht region liveable. That is precisely why we are working on a regional adaptation strategy (RAS). This strategy needs to ensure that the region will develop in a climate-resilient manner in the years ahead: capable of coping with the impact of the changing climate – too wet, too dry, too warm – and with urban flooding. In this regional strategy, we are seeking to link up with other issues such as the energy transition, the circular economy, the housing tasking, biodiversity, and mobility.'

When asked about the best approach to tackling this major transition tasking, Herman Geerdes replied: 'We aim to collaborate with all the parties in the region, so we are inviting everyone to join us. We are asking businesses, governments, and residents to work together, and to work with us, on the implementation of plans and projects. As the Water & Climate network, we are focusing on five spearheads: (1) climate-resilient planning of residential areas, (2) green, healthy and compact cities, (3) accessibility and safety, (4) nature, landscape, and leisure facilities, (5) a resilient waste water chain. Collaboration and local customisation are essential in this respect. So I urge everyone to join our efforts.'
Water & Climate Network up and doing
Meanwhile, the Water & Climate network has not been sitting around doing nothing. Herman Geerdes: 'We have already started. We have rolled out a range of projects and initiatives to improve the climate resilience of our region, neighbourhoods, and streets:
For residents, we have launched the www.klimaatklaar.nl website, an informative platform featuring inspiration and useful tips that residents can put into practice right away.
We have received additional grants from the central government which we have used to roll out five different neighbourhood climate-proofing projects.
We are working in concert with the entire province to mitigate the impact of urban flooding.
These are just a few of the many projects being carried out in the region. Everyone can do their bit to make their environment water-resilient and climate-proof. Every step counts.