Dutch Delta Congress in Groningen: urgency and hope hand in hand
How can we keep the Netherlands safe, attractive and liveable, and make it climate-proof? Should we set hard limits on use of space and water? And how can we really take an integrated approach? These were central questions during the fourteenth Dutch Delta Congress, held on November 9, 2023 in Groningen, the Netherlands.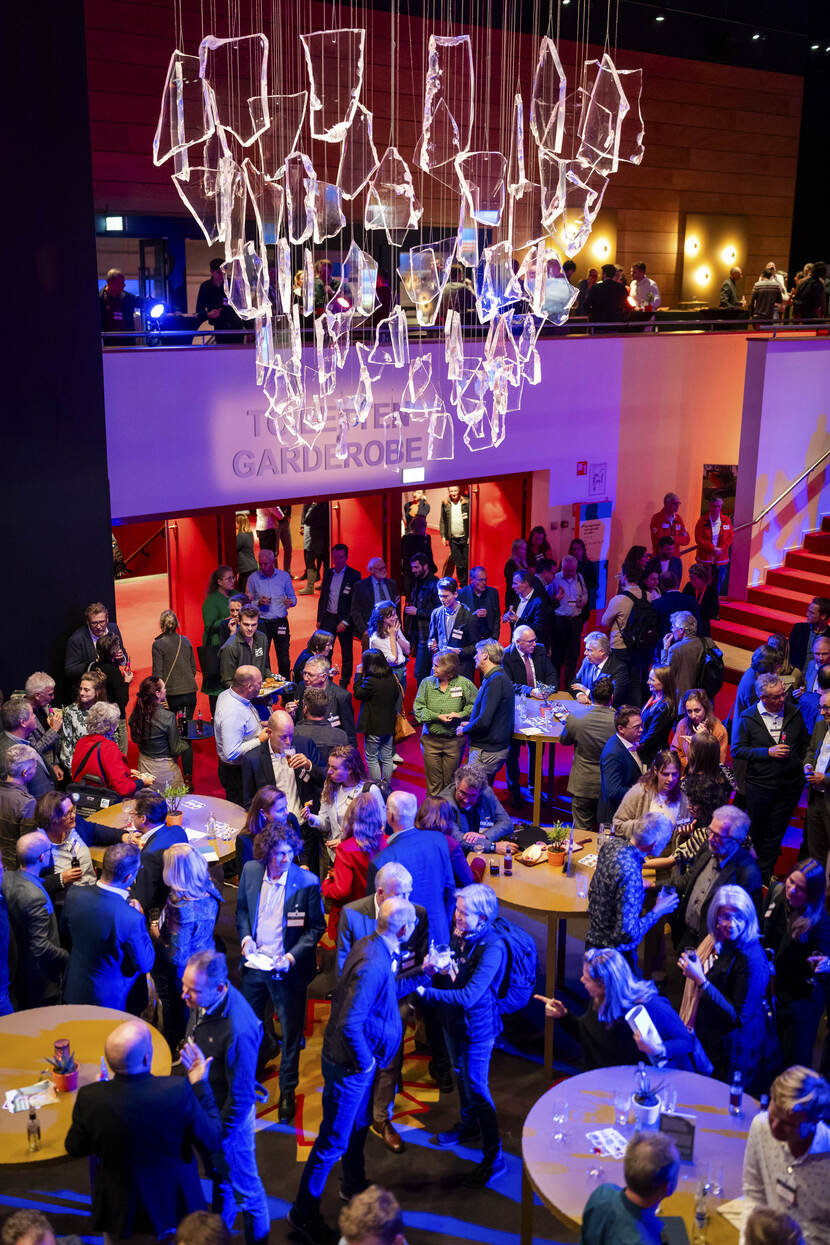 More than 1,300 people gathered in Martiniplaza Groningen. Connection was one of the central themes: between tasks, sectors, short- and long-term interests, city and countryside, and residents and governments. The day coincided with the publication of the Interim Balance of the national Sea-Level Rise Knowledge Programme – and the recently published climate scenarios were still fresh in people's minds. There is great urgency, was the widely felt sentiment, but there are also opportunities to make the Netherlands more attractive, safer, greener and more liveable. 'Now for later', the congress motto, was a nice reflection of the atmosphere of optimism.
"The Delta community is becoming increasingly diverse," said Dutch Delta Commissioner Peter Glas during the plenary opening. "It no longer comprises only administrators and experts, but also ordinary people in local neighbourhoods. That is definitely a win."
Putting portfolios together
René Paas, King's Commissioner in the province of Groningen, elaborated on some successful projects in his province. "Thanks to the water safety projects, beautiful nature reserves have been created that play an important role in water retention."
The administrative challenges in Groningen are vast, including earthquake damage. This is why, according to Paas, it is important to take an integrated approach. "The nice thing about governing a province," he said, "is that you can put the map on the table and literally see all those challenges    come together."
Making the right choices
Mark Harbers, outgoing Dutch Minister of Infrastructure and Water Management, addressed the congress in a video message. "A liveable and safe delta is a shared responsibility," he said. He highlighted the Dutch flood disaster of 1953, which happened 70 years ago this year. "This disaster draws us into history, but above all it also brings us face to face with current developments. We are not invulnerable. We have to make the right choices and look ahead."
Harbers expressed optimism: "We are going to transform the Netherlands from a strainer to a sponge. Yes, that's a paradigm shift. We will have to think and act differently. But this is what it takes now, to allow us to live in a beautiful, safe and liveable delta in the future."
Ray of Sunshine Award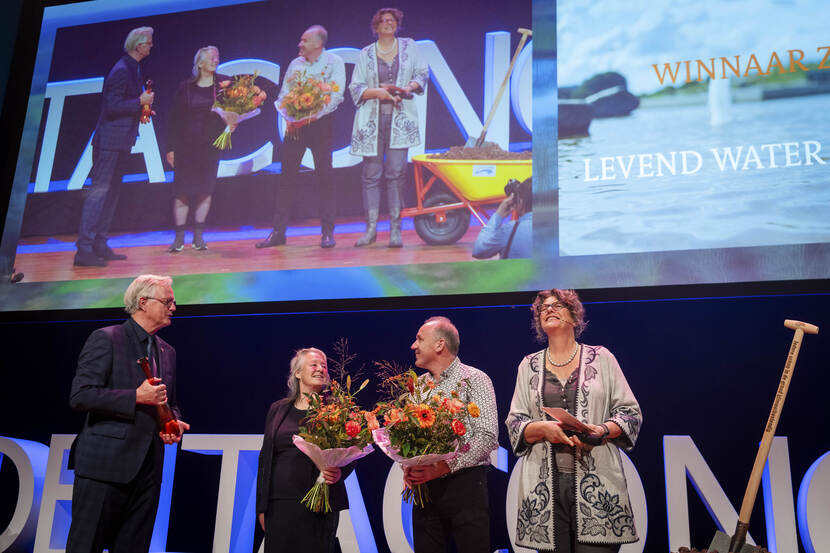 An annual tradition at the Delta Congress is the award ceremony of the 'Ray of Sunshine'. An award for an innovative and inspiring project of the Dutch Delta Programme. This year, citizen initiatives in the field of climate adaptation were nominated. Delta Commissioner Peter Glas: "These projects harbour a wealth of knowledge and inspiration." The three nominees were: the greening of the Roosevelt Street in Groningen, the 'Living Water' project at Tilburg's Railway Park, and the Bajonet Garden in Rotterdam. The Delta Commissioner presented the award to two representatives of 'Living Water' in Tilburg.
Delta Film
The new Delta Film premiered during the Delta Congress: 'Speeding up and setting limits!' In this film, three young professionals visit climate adaptation projects in the North of the Netherlands, where they speak with people from the field about their fears and hopes for the future. "We must join forces to speed up climate adaptation," is the conclusion of the Delta Film.
Reciprocity
Chief Government Architect Francesco Veenstra gave a keynote presentation entitled 'When the water is up to our necks'. "We are facing fundamental spatial transitions," he said. "Climate change will radically change our direct living environment." These transitions should not be games of winners and losers, Veenstra emphasised. Reciprocity is an important guiding principle – also between citizens and government. "But this concept is not yet commonplace in the practice of construction and planning. Rather than 'more and bigger', we must aim for 'better'. This calls for bold decision-making."
Hopeful
Delta Commissioner Peter Glas reflected on the situation 14 years ago, when the Netherlands appointed its first Delta Commissioner. "Something has changed since then: we are not just looking back, but consistently looking forward – currently even beyond the year 2100."
The Interim Balance of the Sea-Level Rise Knowledge Programme underlines the risks of salinisation and freshwater shortages. Glas: "These are silent killers, which are becoming urgent at a faster rate than sea-level rise itself." The good news, as Glas pointed out, is that spatial adaptation has quickly become a priority for more and more parties. "A good example is the financial sector, which has awakened to this frame of thinking, and is not only making risk assessments but also looks at issues from an opportunities perspective. This sector can play a positive role in the transition. This is indeed very hopeful."
This current Delta Congress was the last congress of Delta Commissioner Glas. As of December 1, 2023, Co Verdaas, Chairman of the Rivierenland Water Board and professor of spatial development at TU Delft, will take over his position. Verdaas hinted on the multitude of ideas brewing in his head. "There is an impressive level of capital in this community. I would like to explore that and build a story together."
Solidarity
Marjan Slob, Thinker Laureate of the Netherlands, gave an address about the importance of solidarity in the context of climate adaptation. In addition to sustainability and flexibility, solidarity is one of the basic values of the Delta Programme. There is a relationship between solidarity and knowledge, Slob stated. "If people suffer damage from climate change, the question arises whether they could have protected themselves, and whether they actually did so."
But this turns out to be very complicated in practice: in the short term, there's often not much that people can do to prevent problems, so solidarity is appropriate. "In the longer term, behavioural change is inevitable."
Parallel sessions and workshops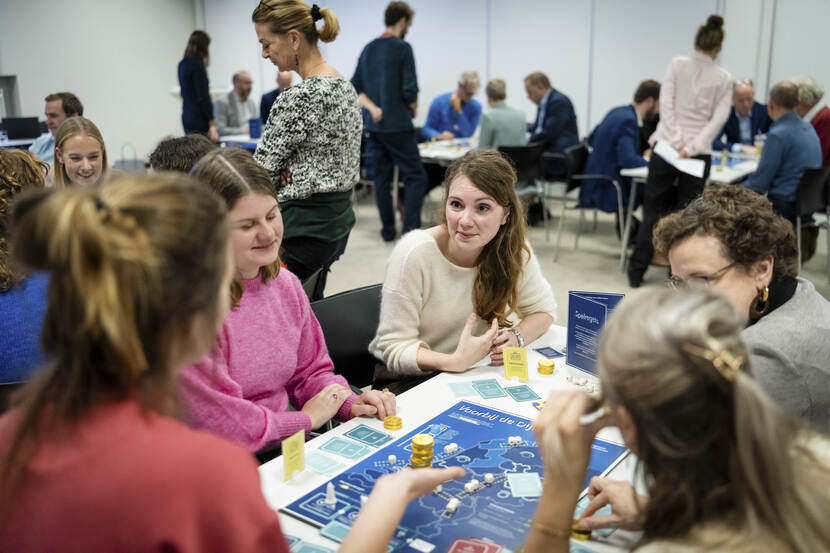 In the afternoon, sessions and interactive workshops took place on various topics. There were presentations, panel discussions and online polls.
The full report of the fourteenth Dutch Delta Congress will be published on November 16.
Watch the Delta Film (Dutch)