Strong sense of urgency at twelfth Delta Congress in Maastricht
Making the Netherlands water-safe and climate-proof requires close cooperation. And all stakeholders need to step up their efforts, from the central government, provinces, municipalities and water boards to companies, organisations and citizens. These were the main messages of the twelfth Dutch Delta Congress, which took place on 11 November 2021 in Maastricht, the Netherlands. An apt choice of location, said Dutch Delta Commissioner Peter Glas. After all, the floodings in southern Limburg, last July, had put water and climate change poignantly on the agenda.
The Delta Congress brought together a wide range of participants, representing governments, companies, research institutes and social organisations. The meeting had a hybrid format, with about 500 participants on site in Maastricht and about 1,300 online.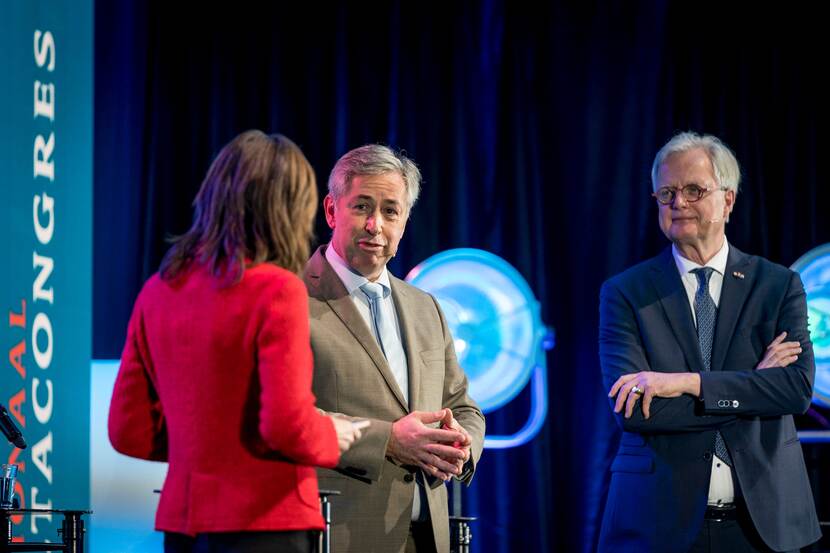 Stand strong together
"We are faced with unprecedented challenges", said chair of the day Brecht van Hulten. "We have to build a million houses, we have to switch to natural resources and we have to safeguard our biodiversity. Water plays a crucial role in all of these challenges."
This was a recurring notion throughout the day. Dutch Delta Commissioner Peter Glas emphasised in his speech: "Water is the connecting element." He explained how the Dutch Delta Programme is taking this fact into account: "The Delta Programme stands for anticipating the future, but it is also hands-on. It's about implementation. Ministries, water boards, municipalities and all those other parties are working hard, from conference rooms to drawing boards, to redesign the Netherlands. In this, we have to be flexible and actively connect water with all those other transitions. We can only address these challenges if we stand strong together."
Willem Voncken of the Dutch Agricultural Youth Alliance (NAJK) also emphasised the importance of cooperation. "The farmer is often the one who has to deal with the losses", he said in a discussion about innovation and adaptation. "This in itself shouldn't be a problem. Many farmers are sufficiently innovative, and willing to cooperate – as long as they are seen as part of the solution, rather than the problem."
Integral approach
"Water policy-making as a democratic model: for Dutch people it's the most natural thing in the world", said Barbara Visser, Minister of Infrastructure and Water Management. "It often surprises our colleagues abroad, but it's really in our genes: this cooperative process that we call 'poldering', or trying to work things out together."
There is a lot of work to be done, as minister Visser emphasised. "We really have to start using water and soil processes as guiding principles in our work", she said, "not just in relation to spatial planning, but also very practically at the street and garden levels." As an example, she highlighted the 'National Tile Removal Championship', which was a great success this year with citizens replacing 1.5 million concrete garden tiles with greenery. 
Minister Visser warmly welcomed the proposal that joint parties in Limburg presented to her last week. "The proposal sends a clear message: build back in a future-proof way; accelerate and intensify the process; and take an integral approach."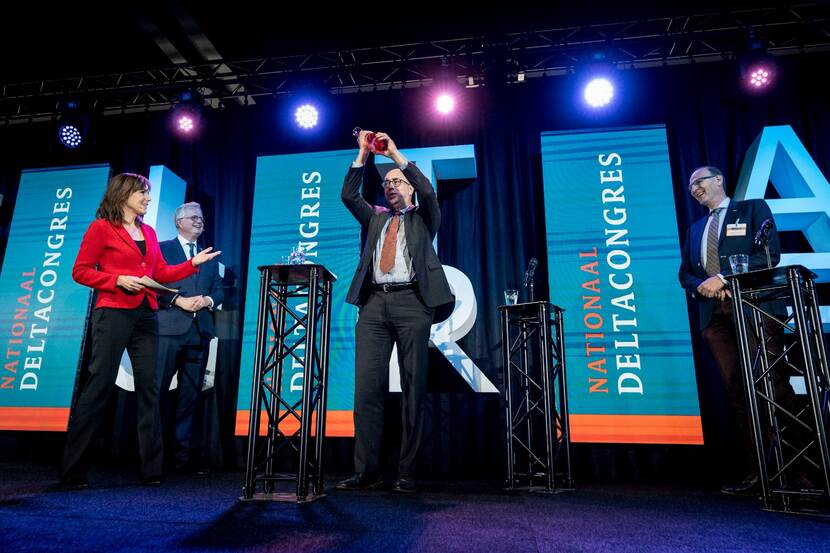 'Ray of Sunshine' Award
An annual tradition at the Dutch Delta Congress is the presentation of the 'Ray of Sunshine', an award for an innovative and inspiring project within the Delta Programme. This year the nominees were the estate Het Lankheet in Haaksbergen, the Cromvlietpark in The Hague and the Living Lab in the Hedwige-Prosperpolder in Zeeuws-Vlaanderen. Delta Commissioner Peter Glas declared the Hedwige-Prosperpolder the winner. He presented the 'Ray of Sunshine', in the form of an artistic glass vase, to Ludolph Wentholt of STOWA and Bart Vonk of Rijkswaterstaat.
Breakdown sessions
Eleven sub-sessions were scheduled in the afternoon. Participants discussed various topics: integration of climate adaptation and other challenges; strengthening efforts towards climate neutrality and circularity; integrated river management; transitions in water management; the water crisis in Limburg in 2021; dynamics in the city; building future-proof neighbourhoods today; and effects of sea level rise in the IJsselmeer region. These sessions included expert presentations, panel discussions and interactions with the audience, both physically present and online.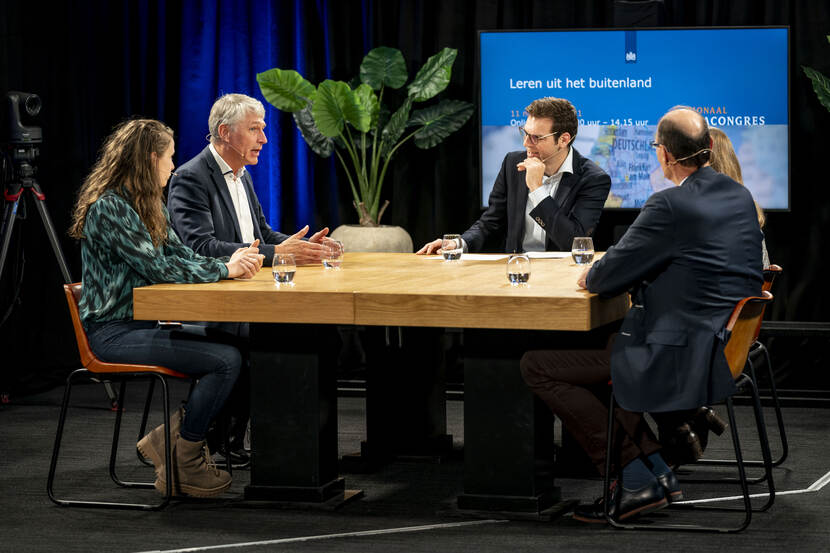 In the corridors
The corridors of the Delta Congress were a lively scene as well. There were ongoing online interviews with water professionals, poster presentations by researchers and speed dates between junior and senior water professionals. During these speed dates, the juniors received information, tips and ideas, but the seniors also benefited: they learned which ideas and concerns are current among the new generation and how they themselves might be able to support their younger colleagues.
During the day, there were many poignant reminders of the fragility of the Dutch water safety situation, including through videos in which inhabitants from Limburg shared their memories of the summer of 2021. The images of flooded houses and wildly swirling streams were etched in all participants' minds. "We have to work on all scale levels, from the region to the street and the farmyard", said Delta Commissioner Peter Glas during a panel discussion. "Improving flood risk management is a task for the whole of the Netherlands, starting in Limburg."